The world's driest inhabited continent is facing a severe drought that Goldman Sachs says endangers to slash growth in 2016 to the weakest level in 24 years. It could also pressure the central bank to trim interest rates from an already record-low 2 percent.
The combination of the strongest El Nino in 18 years and colder ocean temperature around Indonesia produces a weather that dries Australia's farms and ranches. The fall in rural production would add to problems in an economy already struggling with plunging commodity prices and record-low private-sector wage increases.

Tim Toohey, chief economist for Goldman Sachs in Australia noted past episodes cut growth by between a half and one percentage point. He commented:

"A drought in a period where non-farm economic growth is already forecast by policy makers to be well below trend and inflation pressures contained is a sufficient reason to warrant additional monetary easing."
Toohey predicts that Australia's economy will rise by a below-average 2 percent in 2016 and says his estimate may be slashed even further once the impact of the drought becomes vivid. He noted that growth of 1.75% is definitely probable, but may be a little below that. A yearly expansion of less than 1.7 percent would be the weakest registered since 1992.
Earlier in October, the Australian Bureau of Meteorology said there was an 80 percent chance temperatures in the southern half of the country would be above the average maximum in October. The forecast followed the third driest September on record.
According to the bureau, this year's El Nino, which is a warming of Pacific Ocean surface temperatures, is the strongest since 1997. Vietnam coffee growers, African cocoa farmers and dairy producers in Argentina are already feeling its impact.
At the same time, the government agricultural agency is still forecasting farm output will be stable in the period ahead.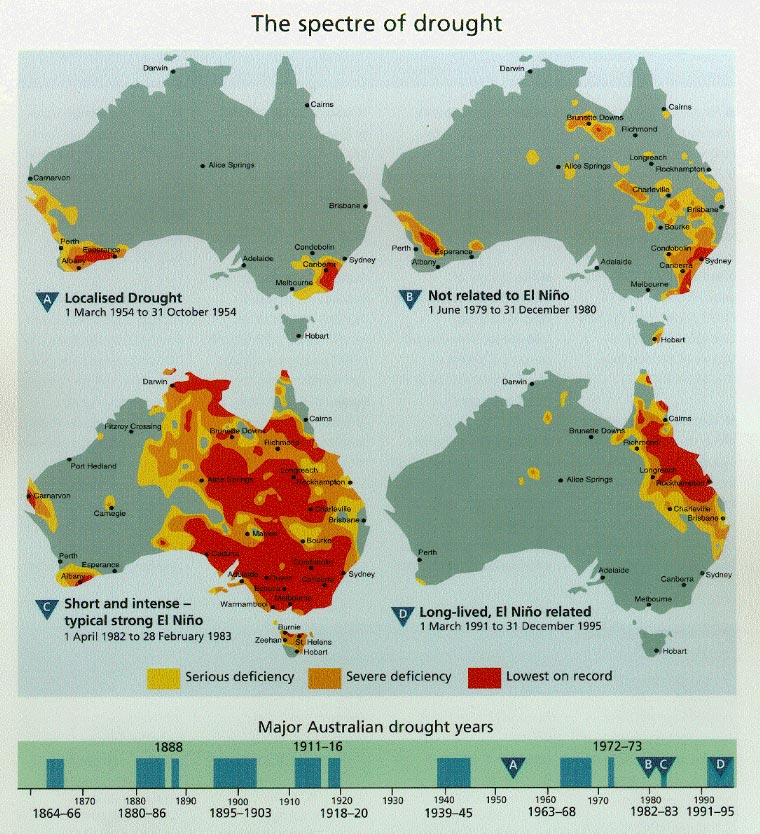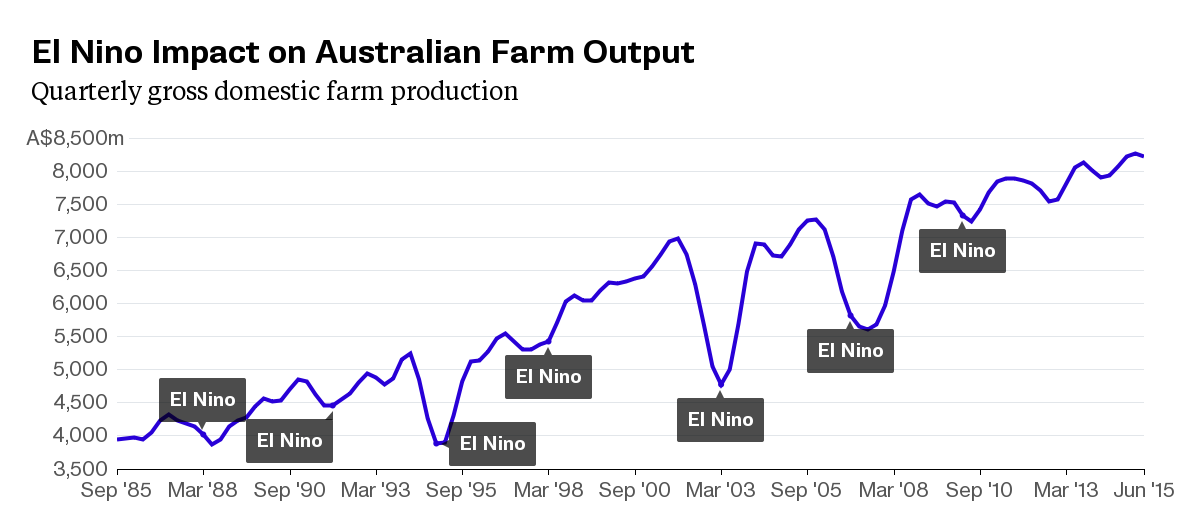 What makes this drought more damaging for the economy than the previous three is that growth has been below average for six of the past seven years.

During droughts in 1994-95, 2002-03 and 2006-07, non-farm GDP growth was 4.6 percent, 4 percent and 4.3 percent respectively, and inflation was already above the 3 percent top of the central bank's target or approaching it. Today the non-farm economy is rising at 2.4 percent and inflation is at 1.5 percent, and analysts admit the economy is too fragile now to face the drought without negative consequences.
Central Bank

The Reserve Bank of Australia is due to update its estimates for economic growth and inflation on November 6, three days after it announces its monthly policy decision.
Shane Oliver, head of investment strategy at Sydney-based AMP Capital Investors noted that the slump in Australian farm-production caused by El Nino comes at a time when growth is already trudging due to the unwinding of the mining investment boom, and that cannot be good.

"While food prices may see some upwards pressure, the hit to growth would likely dominate the RBA's thinking and so is another reason why the RBA is likely to be under pressure to cut interest rates further."
The high temperatures have already covered 80 percent of the northeastern state of Queensland, which is Australia's largest supplier of beef products. The state authorities said the drought, along with higher demand for the country's beef, had encouraged cattle-breeders to increase their slaughter rates.
"Stock numbers are in decline and will continue to fall over the next few years unless climatic conditions improve," the state said in its annual budget.
Goldman's Toohey considers the RBA will trim its growth forecast for 2016 of 2 percent to 3 percent and will not await the impact of the drought before cutting rates.
"If they're going to wait until after the activity data really falls away, you're going to find you're in a position that you'll be cutting by more," he said.