The Heiken-Ashi indicator looks like the candlestick chart, but it has some difference. Instead of the use of the standard OHLC values for candles, it uses another formulas:

Close = (Open+High+Low+Close)/4
Open = [Open (previous bar) + Close (previous bar)]/2
High = Max (High,Open,Close)
Low = Min (Low,Open, Close)
in other words, the indicator shows the "synthetic" candlesticks, which are different from the standard.
Image: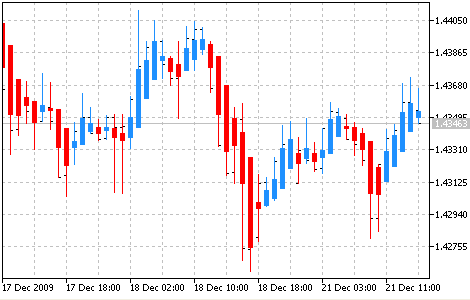 Heiken Ashi Indicator

The color of the Heiken-Ashi candlesticks depends on shadows.

The advantage of the Heiken-Ashi charts is a simple trend determination, the upward trend candles are blue,the downward trend candles are red.
For profitable trading it is necessary to use it with the standard candlesticks (and analysis) and with the other indicators.