The indicator calculates % of growth or drop towards CLOSE. It is written via use of object-oriented programming and can be easily integrated into any Expert Advisor or other indicator.
The indicator calculates CH%, percentage of change of CLOSE of a previous day.
Creates objects on a chart. The indicator is written in object-oriented programming style.
It is easily integrated into any expert advisor or other indicator. It suffices to describe a class and effectuate its activation
You can estimate code size integrated into another indicator or Expert Advisor.
There are 2 lines:
CChmcYZ chmc

;
chmc.RCHsay(

"EURUSD"

,

TimeCurrent

()-

86400

*

5

,

TimeCurrent

(),

5

,

16

); 
Object-oriented programming offer massive opportunities, necessary classes are written, and then you construct ...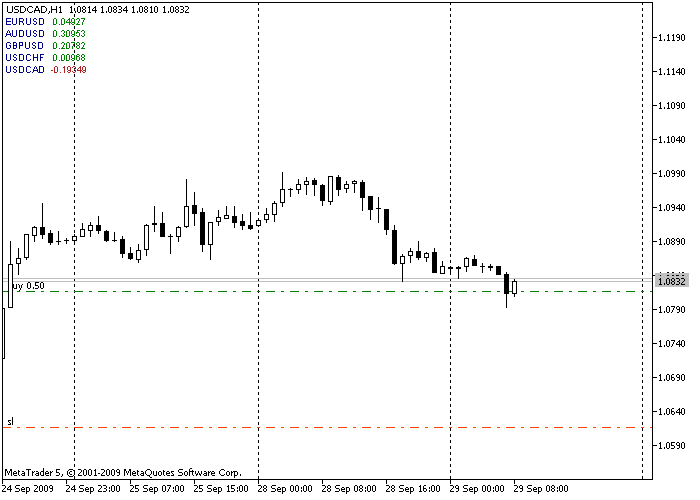 #property copyright "2009, MetaQuotes Software Corp."
#property link      "http://www.mql5.com"
#property version   "1.00"
#property indicator_chart_window





struct SymbolStruct
  {
   bool              work;
   string            sSymbol;
   int               y;
   int               x;
   double            CH;
  };



class CChmcYZ
  {
public:
   SymbolStruct      sSymb;
   color             lColorSym;
   color             lColorChPlus;
   color             lColorChMinus;
   color             lColorCH;
   
   int               indicatorWindow; 
   void CChmcYZ()    { 
   indicatorWindow=0;
   lColorSym=DarkBlue; 
   lColorCH=DarkGreen; 
   lColorChPlus  = Green; 
   lColorChMinus = FireBrick ; 
    } 
   void              RCH(string sSym,datetime db,datetime de);   
   void              RCHsay(string sSym,datetime db,datetime de,int X,int Y); 
private:
   color lColor;
   double            dClose[7000];                    
  };



void CChmcYZ::RCH(string sSymbol,datetime DATEBEG,datetime DATEEND)
  {
   sSymb.CH = 0;
   int CountBar;
   DATEBEG = StringToTime( TimeToString(DATEBEG,TIME_DATE));
   DATEEND = StringToTime( TimeToString(DATEEND,TIME_DATE));
   CountBar= CopyClose(sSymbol,PERIOD_D1,DATEEND,2,dClose);
   if(CountBar>=0)
     {
      if(NormalizeDouble(dClose[1],5)!=0.0 && NormalizeDouble(dClose[0],5)!=0.0)
        {
         sSymb.CH=(dClose[1]*100)/dClose[0]-100;
        }
     }
  }



void CChmcYZ::RCHsay(string sSym,datetime db,datetime de,int XD,int YD) 
  {
   RCH(sSym,db,de);
   if(ObjectFind(indicatorWindow,"oYZ"+sSym)==-1)
     {
      ObjectCreate(indicatorWindow,"oYZ"+sSym,OBJ_LABEL,indicatorWindow,0,0);
      ObjectSetInteger(indicatorWindow,"oYZ"+sSym,OBJPROP_XDISTANCE,XD);
      ObjectSetInteger(indicatorWindow,"oYZ"+sSym,OBJPROP_YDISTANCE,YD);
      ObjectSetInteger(indicatorWindow,"oYZ"+sSym,OBJPROP_CORNER,CORNER_LEFT_UPPER);
      ObjectSetString(indicatorWindow,"oYZ"+sSym,OBJPROP_TEXT,sSym);
      ObjectSetString(indicatorWindow,"oYZ"+sSym,OBJPROP_FONT,"Arial");
      ObjectSetInteger(indicatorWindow,"oYZ"+sSym,OBJPROP_FONTSIZE,7);
      ObjectSetInteger(indicatorWindow,"oYZ"+sSym,OBJPROP_COLOR,lColorSym);
      ObjectSetInteger(indicatorWindow,"oYZ"+sSym,OBJPROP_SELECTABLE,true);
     }
   if(ObjectFind(indicatorWindow,"oYZ_"+sSym)==-1)
     {
      ObjectCreate(indicatorWindow,"oYZ_"+sSym,OBJ_LABEL,indicatorWindow,0,0);
      ObjectSetInteger(indicatorWindow,"oYZ_"+sSym,OBJPROP_XDISTANCE,XD+45);
      ObjectSetInteger(indicatorWindow,"oYZ_"+sSym,OBJPROP_YDISTANCE,YD);
      ObjectSetInteger(indicatorWindow,"oYZ_"+sSym,OBJPROP_CORNER,CORNER_LEFT_UPPER);
      ObjectSetString(indicatorWindow,"oYZ_"+sSym,OBJPROP_TEXT,sSym);
      ObjectSetString(indicatorWindow,"oYZ_"+sSym,OBJPROP_FONT,"Arial");
      ObjectSetInteger(indicatorWindow,"oYZ_"+sSym,OBJPROP_FONTSIZE,7);
      ObjectSetInteger(indicatorWindow,"oYZ_"+sSym,OBJPROP_COLOR,lColorCH);
      ObjectSetInteger(indicatorWindow,"oYZ_"+sSym,OBJPROP_SELECTABLE,true);
     }
   YD=YD+11;

   lColor=lColorCH;
   if(sSymb.CH>0)
     {
      lColor=lColorChPlus;
      ObjectSetString(indicatorWindow,"oYZ_"+sSym,OBJPROP_TEXT," "+DoubleToString(sSymb.CH,5));
      ObjectSetInteger(indicatorWindow,"oYZ_"+sSym,OBJPROP_XDISTANCE,XD+45);
     }
   if(sSymb.CH<0)
     {
      lColor=lColorChMinus;
      ObjectSetString(indicatorWindow,"oYZ_"+sSym,OBJPROP_TEXT,DoubleToString(sSymb.CH,5));
      ObjectSetInteger(indicatorWindow,"oYZ_"+sSym,OBJPROP_XDISTANCE,XD+46);
     }
   ObjectSetInteger(indicatorWindow,"oYZ_"+sSym,OBJPROP_COLOR,lColor);
  }














CChmcYZ chmc;



int OnInit()
  {

   chmc.RCHsay("EURUSD",TimeCurrent()-86400*5,TimeCurrent(),5,16); 
   chmc.RCHsay("AUDUSD",TimeCurrent()-86400*5,TimeCurrent(),5,16+12   );
   chmc.RCHsay("GBPUSD",TimeCurrent()-86400*5,TimeCurrent(),5,16+12*2 );
   chmc.RCHsay("USDCHF",TimeCurrent()-86400*5,TimeCurrent(),5,16+12*3 );
   chmc.RCHsay("USDCAD",TimeCurrent()-86400*5,TimeCurrent(),5,16+12*4 );
   return(0);
  }



int OnCalculate(const int rates_total,
                const int prev_calculated,
                const datetime &time[],
                const double &open[],
                const double &high[],
                const double &low[],
                const double &close[],
                const long &tick_volume[],
                const long &volume[],
                const int &spread[])
  {
   chmc.RCHsay("EURUSD",TimeCurrent()-86400*5,TimeCurrent(),5,16); 
   chmc.RCHsay("AUDUSD",TimeCurrent()-86400*5,TimeCurrent(),5,16+12   );
   chmc.RCHsay("GBPUSD",TimeCurrent()-86400*5,TimeCurrent(),5,16+12*2 );
   chmc.RCHsay("USDCHF",TimeCurrent()-86400*5,TimeCurrent(),5,16+12*3 );
   chmc.RCHsay("USDCAD",TimeCurrent()-86400*5,TimeCurrent(),5,16+12*4 );
   return(rates_total);
  }

 void OnDeinit()
  {
   int i=ObjectsTotal(0); 
   while( i > 0  )
     {
      if(StringSubstr(ObjectName(0,i ),0,3)=="oYZ")
        {
         ObjectDelete(0,ObjectName(0,i ));
        }
        i--;
      }
  }