FX Multi-Meter IV
This is a font test demo of FX Multimeter IV available from FX Tools.
Instructions :
Use the font installer to copy the necessary fonts to your Windows fonts folder. Copy FX Multimeter demo.ex4 to your experts folder, i.e C:\Program Files\(MetaTrader)\experts\ and restart MetaTrader.
Then drag the expert onto a chart. If the fonts are correctly installed, Multimeter will display properly. If not, a big pile of letters will appear on the chart instead.
By double-clicking on it, it can be moved around the chart. The demo shows current Price, Chart, Spread and Time.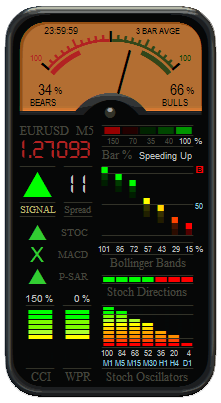 New features in version 4 :
EA and Indicator in one.
Semi-auto and full auto trading.
One-click trading.
Runs in Strategy Tester for backtesting.
ECN/STP compatible.
Fully customizable signals and visuals.
Click and drag display.
Improved indicators.
No more zero divide errors.
More compact (actual size above).
Detailed manual.