Interesting script?
So post a
link
to it -
let others appraise it

Moving Average of Oscillator (OsMA) - indicator for MetaTrader 5
Views:

19933

Rating:

Published:

2010.01.26 11:19

Updated:

2016.11.22 07:32
You are missing trading opportunities:

Free trading apps
Free Forex VPS for 24 hours
Over 8,000 signals for copying
Economic news for exploring financial markets

If you do not have an account, please

register
Moving Average of Oscillator (OsMA) is the difference between the oscillator and oscillator smoothing.

In this case, the base line of Moving Average Convergence/Divergence (MACD) is used as the oscillator, and the signal line is used as the smoothing.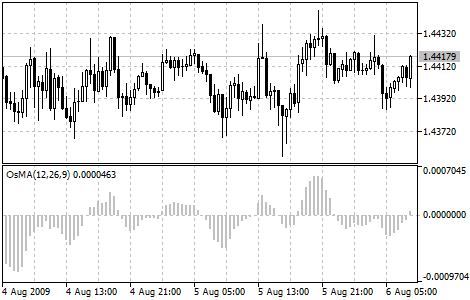 Moving Average of Oscillator
Calculation:

Translated from Russian by MetaQuotes Ltd.
Original code: https://www.mql5.com/ru/code/42

On Balance Volume (OBV)
The On Balance Volume Indicator (OBV) is a momentum technical indicator that relates volume to price change.

Momentum
The Momentum Technical Indicator measures the amount that a security's price has changed over a given time period.

Parabolic SAR
The Parabolic SAR Indicator was developed for analyzing the trending markets.

Price Channel
The Price Channel Indicator draws the price channel, its upper and lower boundaries are determined by maximal and minimal prices for a certain period.