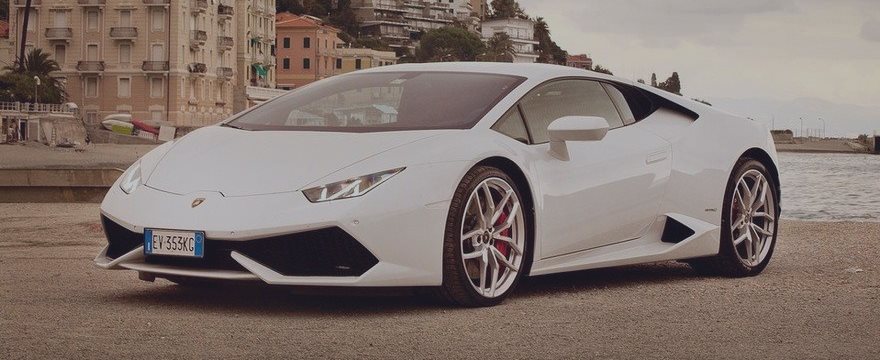 Seconds before the accident, I had noted the man in the right lane, or more precisely the Citroën C6 executive saloon he was driving. Always loved that car. The style holds up. It was about 5:30 p.m. -- prime accident time, statistics tell us—and traffic on the European Route E15 north of Lyon, France, was moving well. It was a quiet, glorious September evening in the Rhone Valley.
I was alone, slung in the leather-lined cockpit of a 2015 Lamborghini Huracan LP 610-4, painted vampire-white with occult LED headlights and a face like a Kabuki general grimacing in rage. I had left the factory in Sant'Agata Bolognese, Italy, the morning before and was en route to the Paris auto show by way of an insane, self-imposed detour of about 300 miles along the Route Napoleon and the Alpes-Maritimes. Total distance was right at 1,000 miles. It looked a lot shorter on the map.
The 2015 Lamborghini Huracán moves a dancer's grace but comes with unexpected danger: other drivers who stare instead of drive., Dan Neil reports.
If I could keep on schedule, I'd just arrive in Paris on the Wednesday night before the show, nose cone glowing, lighter by exactly one set of brake pads.
Replacing the hugely successful Gallardo as the company's entry vehicle—the ante is around $237,000 for this two-seat, mid-engine, aluminum-and-carbon chassis 3,400-pound berlinetta—the 10-cylinder Huracan is already shortlisted for the title of world's hardest accelerating series-production car.
Car and Driver timed the all-wheel drive Huracan at 10.4 seconds in the quarter-mile, quicker than a Ferrari 458 Italia or a McLaren 650S. And their Lambo was still going upstairs like a bat out of hell at the timing lights: 135 mph.
I can believe it: On the rare occasion when you can fully drop the hammer on this car and hold it down for a few seconds, the Huracan throws existence into a daring, unblinking, free-falling fast forward. Gear changes bang away like Satan's at the door.
I am a bit dubious that the Huracan's naturally aspirated 5.2-liter V10 engine produces only 602 hp. I was thinking maybe 700? The car has three driving modes selectable through the steering wheel-mounted "Anima" switch: Strada, Sport and Corsa. In Corsa (maximum sportivo, with full-stiff dampers and sharpest steering, sharpest throttle response, higher thresholds of gear-holding) this car is bleeding, quick-twitch muscle. At its 8,250-rpm redline shift, the Huracan's four tailpipes spatter blue fire and crackle like a meteorite breaking up. It's pretty theatrical, even for France.
And yet in the weird, amoral world of exotic cars/male compensation, the new Huracan represents outstanding value for money. To get another new car this fast you'd really have to add another 0 to the price.
The Huracan chassis is a hard-as-nails composite of structural alloy and carbon fiber that is 50% stiffer than the Gallardo. To celebrate the ultrastiff chassis, the engineers also made the suspension flinty and hard-core, with optional magnetically adaptive dampers that can be turned up to "slipped disc" mode. The Huracan just doesn't do body roll. The steering is heavy and nicely naughty just off center, and the 15-inch carbon-ceramic brakes are mega-strong but with a sweet and precise uptake under load. A good thing, too.
The Route Napoleon—taken by the Le Petit Empereur in 1815 on his way to Waterloo and a long vacation—will test any car. In places it is a broad four-lane highway with three digit sweepers; in others a narrow, tire-grinding thread of asphalt clinging to the steep forests amid the region's national parks.
Lamborghini used to be the one brand of exotic car that you could safely make fun of. They were preposterous Italian codpieces, overstuffed and cartoonish, bought by a clientele who could be described the same.