Mohammad Ali
| 2020.04.02
Image to have an EA which generates profit only, unable to lose money. Unbelievable? NO.
CAP Zone Recovery EA is your tool to turn losing trades into winning trades by using a smart "back-and-forth" hedging mechanism. I call it the "Never Lose Again Strategy". Let the price move to anywhere it likes - the awesome CAP Zone Recovery EA will make profits out of the situation. Guaranteed! The secret behind this amazing EA is a famous trading algorithm known as "Zone recovery algorithm" or "The Surefire Forex Hedging Strategy".
CAP Zone Recovery EA is extremely easy to use. You just open a trade in a trending market - no matter which direction. You just enter a Take Profit level, no Stop Loss! Again: You will never again lose money because your trade hits the Stop Loss! Instead, this EA uses a smart hedging technology turning even losses into wins. In case the market moves in the unfavorable direction, the Zone Recovery Algorithm starts hedging your trade by placing an opposite order, but with multiple lot size. If market should turn again, the same procedure starts again. The result is a "trading channel" with an upper TP and a lower TP and an alternating series of buy and sell trades at specific levels and with different lot sizes within this channel. Once one of the TP levels is hit - and we all know it is absolutely sure that either the higher TP or the lower TP is reached - all open trades will close with a combined profit.
Download
Mt4 version -
https://goo.gl/X10Ajd
MT5 version -
https://goo.gl/nISxEg
User Guide-
https://www.mql5.com/en/blogs/post/727253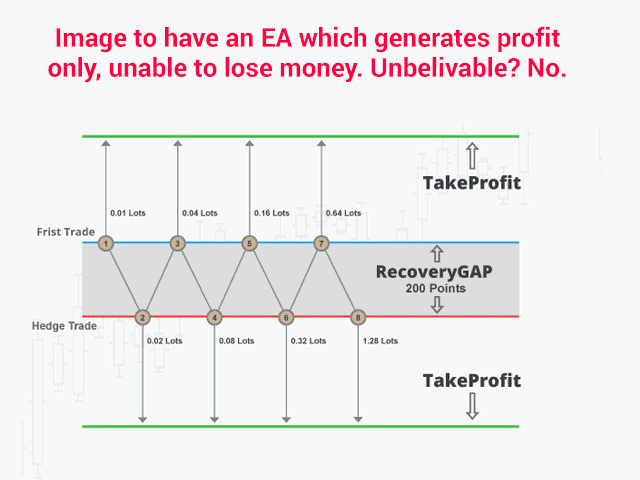 · 26