Hello, I need a simple EA Created from two indicators strategy i have. Simple strategy when Two indicators Oversold I need EA to enter the trade (reversal) . see attached screenshot.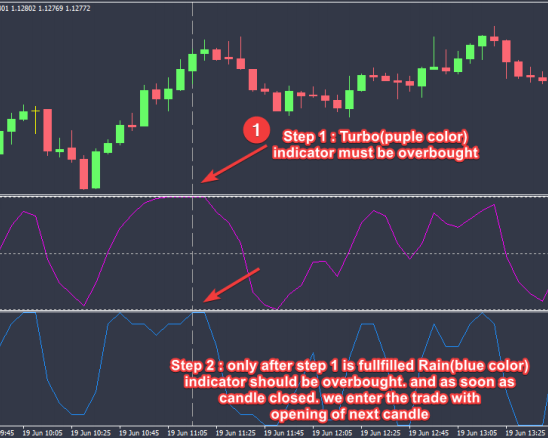 Q1. So if on last closed candle, both indicators are overbought , open instant market execution SELL trade on the open of next candle. correct ?
A1 : yes correct. think this is as binary option. does not need to be profitable working forex EA
Q2. If on last closed candle, both indicators are oversold, open instant market execution BUY trade on the open of next candle.
A2 : Yes. you are correct on BUY and SELL instant execution
Q3. What is considered overbought / sold for each of the indicators ?
A2 : Purple color indicator OS = 0 , OB=100 for Blue color indicator OS=-1 , OB =1
Q4. How should TP and SL be handled ?
A4 : No need of ST and TP. i need the EA to execute the order on next candle entry because this will be used for binary options.
Q5. What about lot size of the trades ? Flat input in lots or you want some kind of MM ?
A5 : this will be used as entry for binary options in another platform. Need option to Enable disable martingale. Martingale need to be triggered using the last candle color. for an example.
EA enter a Put Trade when Both indicators overbought. and if our timeframe is 5M. Trade expire after 5M. if that candle was a green bear candle.(since we enter for a Put trade) . need EA to start new trade on opening of next candle. As 1st Martingale. this this in point of view as Binary options. Not forex. EA will be used as a signal.
Q6. There can be only one active trade at the same time ?
A6 : there can be multiple trades in multiple currency pairs
Q7. EA runs 24/7 ?
A7 : yes 24/7
Q8. EA works on all instruments ?
A8 : Yes all instruments
Q9. EA works on all time frames ?
A9 : Mainly on 5M. if i have the option to choose time frames will be great