Uncertainty over the NAFTA negotiations puts pressure on Canada's investments and exports, said earlier in the week, Deputy Governor of the Bank of Canada, Lawrence Schembri.
"Economic capacities are almost fully loaded, inflation is close to the target level of 2%, and yet rates remain below the neutral level, in part because we have to hedge ourselves because of the uncertainty surrounding NAFTA negotiations", added Lawrence Shembry.
As you know, in April the Bank of Canada left the rate at the same level of 1.25%. The central bank is concerned about international trade conflicts and weaker economic expectations than expected.
"Despite the higher demand in the world economy, the growth of investment (Canadian) companies focused on exports will be limited by the increased uncertainty surrounding foreign trade and concerns about regulatory rules", said in the central bank.
Nevertheless, in recent days, the Canadian dollar has been receiving support from rising oil prices.
So, Brent oil prices exceeded the $ 80 mark per barrel on Thursday, although they fell to 79.30 by the end of the trading day. The US decision to resume economic sanctions against Iran continued to support the rally in oil prices, which reached new highs since November 2014.
If the bull market continues to be in the oil market, then the probability of strengthening the Canadian dollar will increase.
At 12:30 (GMT), publication of data on retail sales and consumer inflation in Canada is planned. Retail sales are expected to grow by 0.3% in March, after rising by 0.4% in February. The level of retail sales is often considered an indicator of consumer confidence, which reflects the state of the retail sector in the short term. The growth of this indicator is a bullish factor for CAD.
The consumer price index (CPI) reflects the dynamics of prices relative to the retail prices of the corresponding basket of goods and services. The target inflation rate for the Bank of Canada is in the range of 1% -3%. The growth of CPI is a positive factor for CAD. Forecast: consumer prices rose in Canada by 0.4% in April (against +0.3% in March). The base CPI rose in April, expected to be +1.4% (in annual terms). Thus, the CPI indicators are still weak, so that the Bank of Canada could return to the issue of raising the interest rate.
If the data are better than forecasts, then against the backdrop of rising oil prices, as well as against the fixation of profit in long positions on the US dollar at the end of the trading week, CAD can significantly strengthen against the USD.
In any case, a surge in volatility in the USD / CAD is expected during the publication of this macro statistics.
*)An advanced fundamental analysis is available on the Tifia Forex Broker website at tifia.com/analytics
Support levels: 1.2805, 1.2765, 1.2740, 1.2600, 1.2535, 1.2430, 1.2360, 1.2260, 1.2170, 1.2100, 1.2050
Resistance levels: 1.2850, 1.2900, 1.2950, ​​1.3000, 1.3130, 1.3200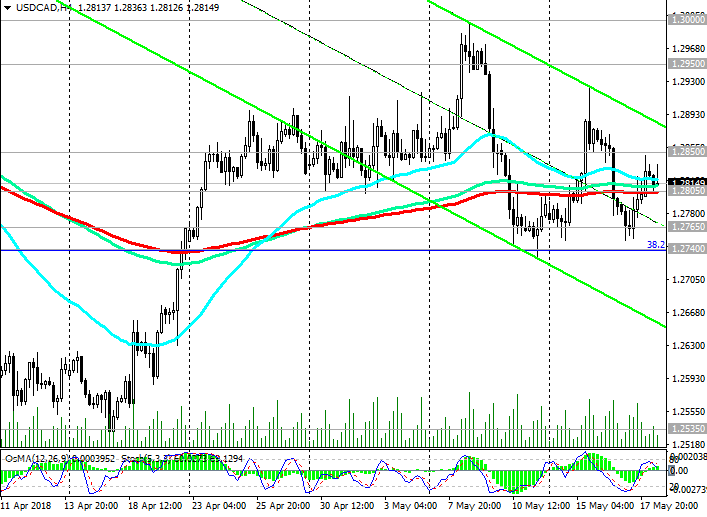 Trading Scenarios
Sell ​​Stop 1.2790. Stop-Loss 1.2855. Take-Profit 1.2765, 1.2740, 1.2600, 1.2535, 1.2430, 1.2360, 1.2260
Buy Stop 1.2855. Stop-Loss 1.2790. Take-Profit 1.2900, 1.2950, ​​1.3000, 1.3130, 1.3200
*) For up-to-date and detailed analytics and news on the forex market visit Tifia Forex Broker website tifia.com