Übersicht

Bewertungen

Diskussion

Neue Funktionen
Multi Catalogador Probabilistico Mhi
Automatic cataloging of probabilistic strategies for Binary Options.
Including:
* MHI 1, 2 and 3, "MHI potencializada", M5 variation, Five Flip, "Padrão do Milhão", "Três Vizinhos", C3 and Turn Over.
* Analysis by time range, date, and days of the week.
* Function that brings results from other pairs.
* Analysis only following trend and / or side market.
* Operation analysis filtering only entries after hit.
* Alert after x number of hits, after loss in martingale, or in each new quadrant entry.
* Complete counters of wins, hits and loss.
* Customization of all colors of lines / clock / counters.
Käufer dieses Produkts erwarben auch
Weitere Produkte dieses Autors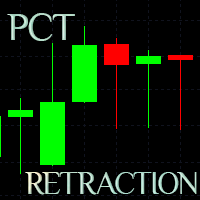 Pct Retraction
Fabio Albano
Developed to assist in binary options retraction operations, this indicator will show on the screen the assets that have the highest percentage of wicks in the number of candles that is specified. How it works: The indicator will calculate the total length of each candle from low to high, the total of the body and total of shadows (up and down) and calculate a total shadows percentage of various configurable assets. The counter is updated with each new candle. ATENTION: Demo on the estrategy
30 USD
* Always showing trending direction.
* Option to highlight Dojis.
* Fixed bug / improvement in the multi symbols backtest.
* Option to catalog martingales only in next quadrants.
* Option to show quadrant lines.
* Alert before entries.
* Fixed MHI 2/3 on M15.
* Fixed C3.