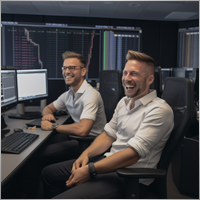 6+ anos

experiência

5

produtos

244

versão demo

0

trabalhos

4

sinais

1

assinantes
We help traders reach success!

80% of profits for you, losses are covered by the Prop Trading Company

What happens when the cutting-edge AI technology, ChatGPT merges with our 17 years of experience in Global Trading, Brokers Tools Development, and Prop-Traders algo trading?
Hint: a Winning Combination!
I'm excited to share with you our experience with the latest AI technology and how we used it to create a powerful system to pass the FTMO challenge and create an algo trading System for Brokers.

It all started when we got introduced to the incredible capabilities of chatGPT, an AI solution that has revolutionized the way we approach complex problems in trading. We decided to combine our experience in the stock market and algorithmic trading development with the cutting-edge solutions provided by chatGPT.
We brainstormed ideas and debated which strategy to use, which indicators to rely on, and which tricks would be most effective for the FTMO challenge.
After hours of discussion with AI, we received hundreds of lines of code that were 100% compiled in MQL. This was lightning-fast.
One of the most crucial steps in creating a trading bot is incorporating risk management tools. In this section, we took a look at some of the professional methods and integrated them all into one Trading Bot and special Protector Tool.

​