Marker Lines of Day
Indicator that allows the maximum and minimum of days to be marked, with real time update, closing of the previous day and beginning of the day.
It is possible to define which markings will be made and also the colors for each mark.
The values ​​of each tick are displayed in the upper left corner of the screen, below the trading panel within the chart.
Maximum and Minimum of the Day and Closing of the Previous Day are marked with a horizontal line, while the beginning of the day with a vertical line.
It can be used in various trading assets, such as Futures Markets, Stock Market, Forex, etc.
The markings that this indicator makes are very relevant points in the day trade and must always be visible in the operations, aiming at a better performance.
Follow the steps below to test the indicator.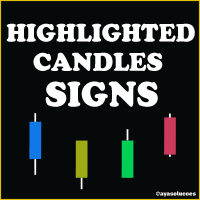 Highlighted Candle Signs MT5
Luis Paulo Rodrigues Pastor
Indicator designed to give investors the advantage of identifying strong candlestick patterns in real time by staining candlesticks representing these patterns, using possible buy or sell performance. The color for each pattern identified by the parameter indicator according to your taste. The candlestick patterns identified by this indicator are: Inside Bar Closing Price Reverse Top (PFRA) Closing Price Reverse Bottom (PFRB) Dave Landry Bullish Engulf Bearish Engulf Advantages: Real Time At ea
39 USD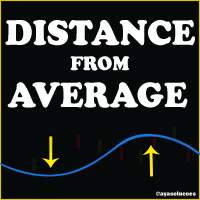 Distance from the Average
Luis Paulo Rodrigues Pastor
一定の移動平均線上の価格からの距離を測定するために設計された指標。 指標は、間隔の値を表示するだけでなく、間隔自体の平均値を表示しており、分析の補助や確認を行うことができます。間隔値が計算される平均と平均のタイプは、間隔平均と同様にパラメータ化可能です。 設定します。 主な移動平均期間(距離の計算に使用します モバイルメディアタイプ(単純型、指数型 距離移動平均期間 注:高距離レベルをより良く表示するためには、インジケータにレベルを挿入するように指示されています。 ........................................................................
30.99 USD