Información general

Comentarios

Discusión
VJ Sniper MT5
VJ Sniper - MT5 Buy / Sell Indicator: This Indicator is as simple as Buy in Up Trend & Sell in Down Trend.
There are Support / Resistance Graphic levels for choosing the best Entries.
Background: Any in-built indicator of MT5 does not work as stand alone such as Stochastic, CCI or DeMarker etc. But combination of them with trend projection work & give the best results for Trading entries. So this Indicator is blended to give the best results while reducing the false signals as best as possible. There is no holy grail or 100% guaranteed entry indicator, it is all about high probability. So "VJ Sniper" brings highly probable trading signals, following the rules for profitable trading.
It works on any Instrument & Any Time Frame except M1.
What makes us different to others:
Entry at the beginning of the Candle, it is based on the close of the previous candle which means that you can take the trade as soon as you see the signal & do not wait for closing the candle.
Signal does not repaint as long as you do not switch the TF
No Blinking of the arrows, clean signal at once.
Signal is early, not like other indicators giving the signal after going far away either side.
Trend is clearly visible through Trend Bands.
Instructions:
VJ Sniper contains 3 trend bands & Signal arrows.
Trend Bands Show the Trend "Up / Down" & the Arrows show Buy or Sell.
In an Up Trend, when a Buy signal (Arrow Up) is popped up, take the Buy trade.
In a Down Trend, when a Sell signal (Arrow down) is popped up, take the Sell trade.
Consider TP & SL at Support / Resistance levels OR at the level of Curves. Example: If you take a Buy, your probable TP based on the Trend bands is the Middle curve & upper curve.
Best Time Frames : M30 / H1 / H4. But it works on any TF except M1.
For the first time installation, it requires data to produce the signal, keep switching the Time frames back & forth till you see the clear signals.
This indicator works best on low volatile instruments (best for Forex).
If you combine Price Action & Candle stick strategy with this, that can become your own Holy Grail system.
There is a Support line & Resistance line automatically drawn which lets you choose the best signal
Does it Repaint?:
Yes, it does in 2 instances but not usual. Indicator repaint does not mean it is bad or does not repaint not necessarily good. It all depends on trading strategy.
When the trend bands move away from the price after signal, it repaints.
If you switch the Time Frame & after the trend is changed, it repaints.
Los compradores de este producto también adquieren
Otros productos de este autor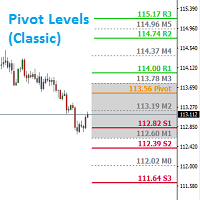 VJ Pivot Levels
Vijayaratna Kumar Boda
Introduction: Whatever trading method you use, it is important to know the Pivot levels to take the key attention for your entries & exits. This indicator has been made using the standard classic formula for Auto drawing the Pivot levels. Also based on the previous day trading range, the probable expected today trading range has been highlighted in a different color for your reference. Output of the Indicator: This Indicator gives the Pivot level Different resistance Levels Different Support l
30 USD
VJ Sniper
Vijayaratna Kumar Boda
VJ Sniper - MT4 Buy / Sell Indicator: This Indicator is as simple as Buy in Up Trend & Sell in Down Trend.                                                           There are 2 Support / Resistance lines for choosing the best Entries. Background: Any in-built indicator of MT4 does not work as stand alone such as Stochastic, CCI or DeMarker etc. But combination of them with trend projection work & give the best results for Trading entries. So this Indicator is blended to give the best results whi
48 USD