Información general

Comentarios (1)

Discusión (6)

Novedades
Scalper Mars
Scalper Mars EA uses intraday scalping strategy. The Expert Advisor uses standard indicators MACD, RSI, EMA in its trading, does not use martingale and an order grid. A stop order is placed near local extrema, if it does not exceed the maximum value specified by the MaxStopLoss parameter. The EA uses take profit equal to the stop. The Expert Advisor is influenced by news releases.
Requirements
Recommended for working with the USDJPY currency pair on the M1 timeframe.

It can trade on other currency pairs, subject to testing and optimization of parameters.

The minimum recommended deposit is $ 1000 with a lot of 0.1.

An ECN broker with a low spread is recommended for best results.

Compatible with four- and five-digit accounts.

Compatible with all brokers, including American ones, that are subject to the FIFO rule.
Input parameters:
Lots (0.1) - Lot size.

MaxStopLoss (50) - Maximum stop in points (15-100).

StartTime (00) - Trading start time.


EndTime (23) - Trading end time.

Ma_period (5) - EMA period (2-10).

Bb_period (25) - Bollinger Bands period (15-30).

Fast_emaperiod (10) - Period of the fast average MACD (5-10).

Slow_emaperiod (19) - Period of the slow average MACD (15-20).

Signal_smaperiod (11) - Period of the MACD signal line (5-15).

Rsi_period (15) - RSI period (10-20).

Minsl (13) - Minimum stop in points (5-15).
Results of work on a real signal:
https://www.mql5.com/ru/signals/939439
Los compradores de este producto también adquieren
Otros productos de este autor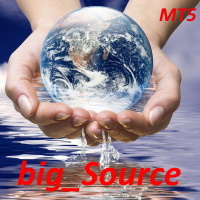 Big Source MT5
Igor Bulgakov
Automated trading system for portfolio managers. Trend Advisor big_Source MT5 uses 2 EMA indicators and an RSI indicator. Safe, doesn 't use a martingale or a grid of warrants. The expert uses standard stop loss, teak profit and trailer stop. Not influenced by news output. Requirements Optimized to work with any trends in currency pairs, but GBPUSD, EURUSD on the H4 timeframe are recommended. The minimum deposit is $1000. Compatible with four- and five-digit accounts. Compatible
530 USD
Added the ability to edit parameters.
Troubleshooting logical errors and Optimizing parameters.
Изменен алгоритм закрытия ордера



Советник Scalper Mars использует внутридневную скальперскую стратегию.

Эксперт использует в своей торговле стандартные индикаторы MACD, RSI, EMA и не использует мартингейл и сетку.

Стоп-ордер не используется. Если сигнал меняется на противоположный, то советник закрывает старый ордер и открывает новый в противоположную сторону.

Советник использует тейк-профит.

Эксперт подвержен влиянию выхода новостей.


Требования

Оптимизирован для работы с валютными парами GBPUSD, USDJPY, EURUSD, EURAUD, USDCAD на таймфрейме M15.
Может торговать на других валютных парах.
Минимальный рекомендуемый депозит - $1000.
Для получения лучших результатов рекомендуется ECN-брокер с низким спредом.
Совместим с четырех- и пятизначными счетами.
Совместим со всеми брокерами, включая американских, которые подчиняются правилу FIFO.


Входные параметры

Positions (Long & Short) - Позиция (Long или Short)

Lots (0.1) - Размер лота.

TakeProfit (15) - Тейк-профит в пунктах (15-50).


Если вы купили продукт, прошу вас написать мне личное сообщение, я дам некоторые рекомендации для торговли на реальном счете.