Übersicht

Bewertungen

Diskussion
DarkMatter EA
The DarkMatter is a trending EA, which used to EURUSD .The ea use below strategy:
Use moving averages to determine direction
Use money flow index and Williams Overbought/Oversold index to determine the market power
Use accelerating indicator to filter the market power.
Support multi language: English, Japanese and Chinese.
The EA's feature:
Strictly risk control, High risk will stop trading.
Steady profit
The EA's parameter:
RiskPercent : The risk percent ,min is 0.50% max is 10%
MaxSpread: If the current spread > max spread the ea will be stop trading.
MagicNumber: The EA magic number to identify DarkMatter EA.
SettingStopLoss setting of stop loss, over this stop loss will cut the position.Default 42.
GlobalTakeProfit: The setting of takeprofit, over this profit will cut the positon.Default 42.
TrailingStopLoss: The trailing stoploss ,which already best for eurusd
GlobalTradingLots: The setting of trading lots,default is 0.1.
GlobalTestLots:The settiong of testing lots,default is 0.01.
Language: The EA language, Engish: 0 , Chinese: 1 , Japanese:2 .Default is English
CommentColor: The color of ea.
We test the DarkMatter EA from 2007.11.27 01:41 to 2019.11.27 08:57 which the use 2 mode :
1. Open Price Only for quick testing,The 12 years, the growing is 4830/1000 = 483% , each year compound interest is 14%. 1.14**12 = 4.817904819828484
2. Every tick testing, The 12 years, the growing is 11261/1000 = 1126%, each year compound interest is 22% 1.22**12 = 10.87221339872291
Käufer dieses Produkts erwarben auch
Weitere Produkte dieses Autors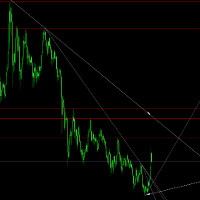 Auto Trend Line
Wujie Duan
This indicator auto draws a trend line on all timeframes. We draw the short trend line, middle trend line and long trend line. Suits any type of trader. The trend line indicator works with our indicator. Level 3 Reversals will be a nice trading system. The longer timeframe, the stronger the trend line. Parameters Auto_Refresh: Set true to auto refresh a trend line. Normal_TL_Period: Bar count for caculating a trend line. Three_Touch: Set to true to enable the three touch. M1_Fast_Analysis: Set
30 USD