Übersicht

Bewertungen

Diskussion (6)
Differential oscillator
The dream of any trader is to predict the trend reversal point. The Differntial oscillator calculates the differential of the chart of currency pair rates in real time. Thus, it becomes possible to predict the extremes of the live chart and predict the trend reversal points. Using differentiation of the chart in real time significantly facilitates trading, and when used in experts, makes them more efficient and reduces the drawdown. It is very important that the minimum indicator values are used for a more accurate prediction, which means a slowing of the chart growth speed (minimum) or slowing of the chart fall speed (minimum).
Indicator Parameters
bar - the number of bars for calculating the extremum points (maximum or minimum). Can vary from 1 to 100. The higher th value, the less false extremums are shown on the chart.
Käufer dieses Produkts erwarben auch
Weitere Produkte dieses Autors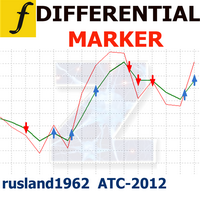 Differential Marker
Ruslan Ziyatdinov
The dream of any trader is to predict the trend reversal point. The Differential Marker indicator calculates the differential of the chart of currency pair rates in real time. Thus, it becomes possible to predict the extremes of the live chart and predict the trend reversal points. Using differentiation of the chart in real time significantly facilitates trading, and when used in experts, makes them more efficient and reduces the drawdown. For a more accurate forecast, it is necessary to optimiz
30 USD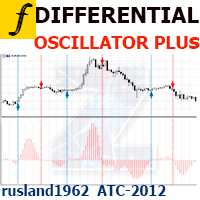 Differential Oscillator Plus
Ruslan Ziyatdinov
Differential Oscillator Plus calculates the differential of the price chart in real time and shows the chart's turning points. The indicator crossing 0 shows the chart movement direction. Sell if the indicator changes its sign from "+" to "-". Buy if the indicator changes its sign from "-" to "+". Please note that the indicator key points are zero crossing points rather than indicator chart tops and bottoms. However, the height of extremum points indicates the trend dynamics, since the chart dif
40 USD