Make It Horizontal
"Make it Horizontal" will convert any trendline to horizontal by just selecting it and then pressing the H key.
This tool must be included in your charts as an indicator. It has no inputs, just drag it to your charts and that's it!
I created this tool because the MT4 doesn't have any built-in feature like this. How many times have you drawn a line and you need to double click it in order to configure the start and end price level so you can make it horizontal? Well, that's not an issue anymore! Download "Make it Horizontal" and just have your support and resistance lines perfectly horizontal.
Draw Horizontal Ray
JUAN LUIS CIENFUEGOS RUIZ
Sometimes we want to draw a horizontal ray from any given price based on a candlestick, and this tool solves that with just 1 key! In order to draw an horizontal ray you just need to drag and drop the indicator over any chart you want and then: 1) Click over ANY candle and then 2) Hit any of the following keys: O - It will draw an horizontal ray right at the OPEN price of the clicked candle H - It will draw an horizontal ray right at the HIGH price of the clicked candle L - It will draw an horiz
10 USD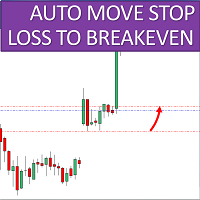 Auto Move SL to BreakEven
JUAN LUIS CIENFUEGOS RUIZ
This time I would like to present the "Auto Move SL to BreakEven" tool. It moves the Stop Loss price to breakeven (no losses) whenever the price has reached a given number of pips away from the entry price in a winning trade. This tool has two input parameters only: PipsToBE —the number of pips that the current price has to be away from the Entry price so it triggers the move of the Stop Loss price to no losses or breakeven SafetyPips —the number of pips away from the Entry price to where the St
10 USD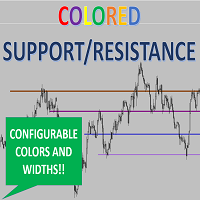 Colored Support and Resistance Lines Easy
JUAN LUIS CIENFUEGOS RUIZ
Draw horizontal lines the easy way! Save time and effort! It doesn't matter whether you want it blue or yellow or whatever color you choose, just configure the indicator and that's it! You will have any line to use it as support or resistance. Input parameters: I have defined the following keys for drawing the lines: M => as it was the "Monthly " line W => as it was the "Weekly" line D => as it was the "Daily" line H => as it was the "Hourly" line For each line you want you can define color, s
15 USD