Información general

Comentarios

Discusión (6)

Novedades
Bobber
Supervisión:
BOBBER Alpari risk 3 prc broker Alpari, tipo de cuenta: pro ecn, spread 0-3, comisión $ 3.2.
BOBBER ICMarkets risk 3 prc broker ICMarkets Global, tipo de cuenta: spreed sin procesar , spread 0-3, comisión $ 7.0.
Resultados de la prueba: https://www.mql5.com/ru/market/product/61718#!tab=comments&page=1&comment=21466060
Bobber es un asesor experto seguro que negocia órdenes pendientes, stop loss y take profit se establecen de inmediato , y funciona un trailing stop multifuncional.
Bobber comienza a cotizar en los extremos del día anterior y luego cotiza en los extremos de hoy.
La estrategia comercial cumple con las reglas FIFO.
El depósito mínimo es de $ 100 .
Negociación intradía desde niveles con tendencia.
Instrumento solo USDJPY , período H1 . Utilice cuentas con un margen de 0-3, esto aumentará sus ganancias.
La configuración está optimizada para un historial de 10 años .
Bobber puede ser utilizado por principiantes y comerciantes experimentados.
Preste especial atención a la configuración de TimeBroker, (UTC +) = 2; - Las primeras órdenes deben realizarse 1 hora y 5 minutos después del inicio del día de negociación. Es conveniente realizar un seguimiento de esto mediante pruebas el lunes.
Configuraciones :
Riesgo,% = 3,0; El porcentaje de riesgo máximo del tamaño del depósito para 1 pedido.
FixLot (Riesgo,% = 0) = 0.01; Lote fijo.
SpreadMax = 15; El margen máximo al que se realiza el pedido.
TakeProfitCoef = 1.6; El coeficiente que influye en la configuración de Take Profit.
StopLossCoef = 0,17; Coeficiente que influye en la configuración de Stop Loss.
TimeBroker, (UTC +) = 2; Zona horaria UTC del servidor de su corredor.
Magia = 333; Número único de órdenes del asesor.
Comentario = Bobber ; Comentario sobre las órdenes del asesor.
StartTradeHour = 23; Hora de inicio de EA ( UTC 0).
StartTradeMinute = 05; Hora de inicio de EA ( UTC 0).
FinishTradeHour = 15; Hora de eliminación de órdenes pendientes (UTC 0).
EveningTacticsHour = 15; Hora de cambio de tácticas de mantenimiento de órdenes abiertas (UTC 0).
CloseAllHour = 20; Hora de cierre de la orden abierta (UTC 0).
Todos los coeficientes se calculan a partir de valores dinámicos que tienen en cuenta el comportamiento del precio.
Los compradores de este producto también adquieren
Otros productos de este autor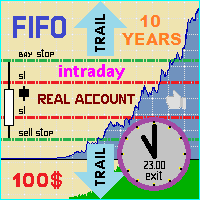 Prado
Tatyana Kulyapina
"¡   Desglose de los precios extremos del día anterior!   ": Esta estrategia tiene más de 100 años y siempre funciona. El precio del asesor aumenta a medida que aumenta la rentabilidad del seguimiento. Monitoreo   :   Prado JPY risk 3 prc   broker ICMarkets Global, tipo de cuenta: raw spreed, spread 0-3, comisión $ 7.0. El monitoreo funciona desde la primera versión del asesor, ¡así que verifique los resultados de la prueba desde la fecha de la última actualización! PRADO   4.0 pruebas en el
499 USD
In version Bobber 5.0, the principle of placing orders has been changed.
Added filters for placing orders.
-In the new version of the Bobber 4.0 Expert Advisor, the principle of calculating market volatility has been changed.
-If you want to keep the Bobber 3.1 version of the EA, rename the Bobber.ex4 EA file in the File \ Open Data Folder\MQL4\Experts\Market\ directory, for example, Bobber 3_1.ex4, then this file will not change when downloading the new EA version.
Fixed bugs that generated false error messages "0" in the log. "0" means "no error".
В новой версии будут работать 2 стратегии одновременно, любую стратегию можно отключить, это удобно для тестирования и торговли.