Bobber
监控:
BOBBER Alpari风险为3的PRC经纪人Alpari,帐户类型:pro ecn,点差0-3,佣金$ 3.2。
BOBBER ICMarkets风险等级为3的中间商经纪人ICMarkets Global,帐户类型:原始交易,点差0-3,佣金7.0美元。
测试结果: https://www.mql5.com/ru/market/product/61718#!tab=comments&page=1&comment=21466060
Bobber是一个安全的EA交易工具,可以立即设置挂单,止损和获利,并且可以进行多功能尾随止损。
Bobber在前一天的极端开始交易,然后在今天的极端进行交易。
交易策略符合FIFO规则。
最低存款是100美元。
日内交易具有趋势水平。
仅限工具USDJPY ,期间H1 。使用点差为0-3的帐户,这将增加您的利润。
这些设置已优化10年。
浮子可供初学者和经验丰富的商人使用。
要特别注意TimeBroker设置,(UTC +)= 2; -在交易日开始后的1小时5分钟内应下达第一笔订单。通过星期一的测试来跟踪它很方便。
设定值:
风险,%= 3.0; 1笔定金的最大风险百分比。
FixLot(风险,%= 0)= 0.01;固定手数。
SpreadMax = 15;下订单的最大价差。
TakeProfitCoef = 1.6;影响获利设置的系数。
StopLossCoef = 0.17;影响止损设置的系数。
TimeBroker,(UTC +)= 2;代理服务器的UTC时区。
魔力= 333;顾问订单的唯一编号。
评论=鲍伯;评论顾问的命令。
StartTradeHour = 23; EA开始时间( UTC 0)。
StartTradeMinute = 05; EA开始时间( UTC 0)。
FinishTradeHour = 15;删除挂单的时间(UTC 0)。
晚上战术小时= 15;更改维护未结订单策略的时间(UTC 0)。
CloseAllHour = 20;未结订单关闭时间(UTC 0)。
所有系数都是根据考虑价格行为的动态值计算得出的。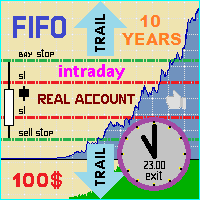 Prado
Tatyana Kulyapina
" 突破前一天的价格极限!   "-此策略已有100多年的历史了,并且一直有效! 顾问的价格随着监视获利能力的提高而增加。 监控 :   Prado JPY风险3 prc 经纪人ICMarkets Global,账户类型:原始交易,点差0-3,佣金$ 7.0。此监视从顾问程序的第一个版本开始起作用,因此请从最后一次更新的日期开始检查测试结果! 监视 :   具有v5风险的Prado 3x1   Prc经纪人Alpari,帐户类型:pro.ecn,点差0-3,佣金$ 3.2。此监视可与Advisor的第五版一起使用,请检查自上次更新之日起的测试结果! PRADO   4.0在附加的文件注释 #194 中进行了测试。 PRADO是一种安全的EA 交易程序,可以立即设置挂单,止损和获利,并且可以进行多功能追踪止损。 PRADO 不使用:网格,平均,增加订单量和其他危险技术。 交易策略符合 FIFO 规则。 最低存款是 100美元 。 日内交易 具有趋势水平。 该工具 仅适用于USDJPY   ,您无需进行任何配置-使用默认设置。使用点差为0-3的帐户,这将增加您的利润。 对于那些希望的
499 USD
In version Bobber 5.0, the principle of placing orders has been changed.
Added filters for placing orders.
-In the new version of the Bobber 4.0 Expert Advisor, the principle of calculating market volatility has been changed.
-If you want to keep the Bobber 3.1 version of the EA, rename the Bobber.ex4 EA file in the File \ Open Data Folder\MQL4\Experts\Market\ directory, for example, Bobber 3_1.ex4, then this file will not change when downloading the new EA version.

Fixed bugs that generated false error messages "0" in the log. "0" means "no error".
В новой версии будут работать 2 стратегии одновременно, любую стратегию можно отключить, это удобно для тестирования и торговли.