Visão global

Comentários

Discussão (6)

O que há de novo
Bobber
Monitoramento
:
BOBBER Alpari risk 3 prc broker Alpari, tipo de conta: pro ecn, spread 0-3, comissão $ 3.2.
BOBBER ICMarkets risk 3 prc broker ICMarkets Global, tipo de conta: spreed bruto , spread 0-3, comissão $ 7,0.
Resultados do teste: https://www.mql5.com/ru/market/product/61718#!tab=comments&page=1&comment=21466060
Bobber é um Expert Advisor seguro que negocia ordens pendentes, stop loss e take profit são definidos imediatamente , e um trailing stop multifuncional funciona.
Bobber começa a negociar nos extremos do dia anterior e, em seguida, negocia nos extremos de hoje.
A estratégia de negociação está em conformidade com as regras FIFO.
O depósito mínimo é de $ 100 .
Negociação intradiária a partir de níveis com tendência.
Instrumento apenas USDJPY , período H1 . Use contas com spread de 0-3, isso aumentará seu lucro.
As configurações são otimizadas para um histórico de 10 anos .
Bobber pode ser usado por iniciantes e comerciantes experientes.
Preste atenção especial à configuração TimeBroker, (UTC +) = 2; - as primeiras ordens devem ser colocadas 1 hora e 5 minutos após o início do dia de negociação. É conveniente rastrear isso por meio de testes na segunda-feira.
Configurações :
Risco,% = 3,0; A porcentagem máxima de risco do tamanho do depósito para 1 pedido.
FixLot (risco,% = 0) = 0,01; Lote fixo.
SpreadMax = 15; O spread máximo em que o pedido é feito.
TakeProfitCoef = 1.6; O coeficiente que influencia a configuração de Take Profit.
StopLossCoef = 0,17; Coeficiente que influencia a configuração de Stop Loss.
TimeBroker, (UTC +) = 2; Fuso horário UTC do servidor do seu corretor.
Magic = 333; Número único de pedidos do consultor.
Comentário = Bobber ; Comentário sobre as ordens do conselheiro.
StartTradeHour = 23; Hora de início do EA ( UTC 0).
StartTradeMinute = 05; Hora de início do EA ( UTC 0).
FinishTradeHour = 15; Hora de exclusão de pedidos pendentes (UTC 0).
EveningTacticsHour = 15; Hora de mudar as táticas de manutenção de ordens abertas (UTC 0).
CloseAllHour = 20; Horário de fechamento da ordem aberta (UTC 0).
Todos os coeficientes são calculados a partir de valores dinâmicos que levam em consideração o comportamento do preço.
Os compradores deste produto também adquirem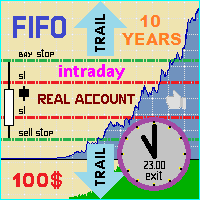 Prado
Tatyana Kulyapina
"   Rompimento dos extremos de preço do dia anterior!   " - Essa estratégia tem mais de 100 anos e sempre funciona! O preço do consultor aumenta com o aumento da lucratividade do monitoramento. Monitoramento   :   Prado JPY risk 3 prc   broker ICMarkets Global, tipo de conta: raw spreed, spread 0-3, comissão $ 7,0. O monitoramento funciona desde a primeira versão do advisor, portanto verifique os resultados do teste desde a data da última atualização! O PRADO   4.0 testa no arquivo anexo o co
499 USD
In version Bobber 5.0, the principle of placing orders has been changed.
Added filters for placing orders.
-In the new version of the Bobber 4.0 Expert Advisor, the principle of calculating market volatility has been changed.
-If you want to keep the Bobber 3.1 version of the EA, rename the Bobber.ex4 EA file in the File \ Open Data Folder\MQL4\Experts\Market\ directory, for example, Bobber 3_1.ex4, then this file will not change when downloading the new EA version.
Fixed bugs that generated false error messages "0" in the log. "0" means "no error".
В новой версии будут работать 2 стратегии одновременно, любую стратегию можно отключить, это удобно для тестирования и торговли.