Chock Hwee Ng
| 2017.07.01
GRID HERO EA vs Brutal Back Testings
It's time to take Back Testing to the next level:
- Back Tested over 13 years from 2004 to 2017
- Back Tested using Real Tick Data (99% modelling quality)
- Back Tested with Real Variable Spread + $7 commission
- Back Tested with Execution Delay Slippage of 200 to 300 milliseconds
- Robustness Tested with 2000 Monte Carlo Simulation Runs of Trade Randomizations
- Using renowed state of the art back test software Birt's Tick Data Suite Version 2.2.4.0.
Before you buy any EAs out there, please make an effort to do a proper back test.
Buying an EA without doing proper back testing is like dumping your money into the sea.
Start doing yourself a favor, spend your money wisely, learn to do a 99% back test.
Perform all your back tests with Real Tick Data, Real Spread, and Commission.
Perform robustness tests like Execution Delay Slippage and Trade Randomization.
Perform a realistic test as close to live trading conditions as possible.
GRID HERO V5 13 Years Back Test Video:
https://youtu.be/QuWqw2OY8ps
GRID HERO EA Product Page:
https://www.mql5.com/en/market/product/20937
GRID HERO EA FAQ:
https://www.mql5.com/en/blogs/post/689594
GRID HERO EA Live Signals:
https://www.mql5.com/en/signals/author/daveng
GRID HERO Myfxbook: myfxbook.com/members/iamforexrobot/grid-hero-real-axitrader-ecn/2005396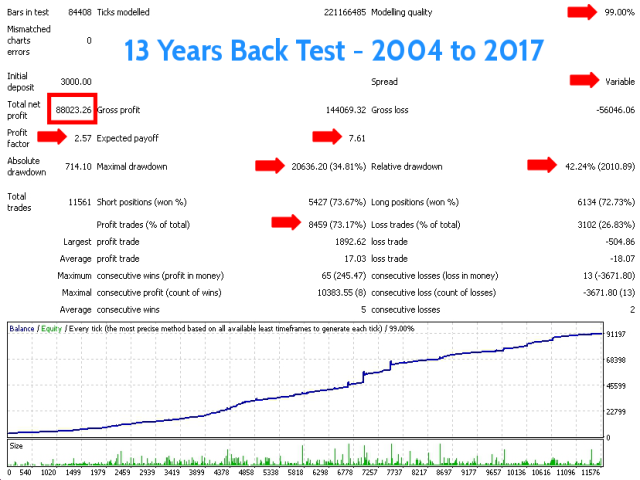 · 1