MT4toTelegram
This application allows you to broadcast any trading activity of your choice on the account in the telegram channel.
You choose:
Where to broadcast (you can simultaneously broadcast to several channels by running several copies of the robot on your account at the same time)
Orders and positions placed by a robot or a human, or both
What symbols (All or are entered through a space EURUSD.i EURGBP.i ...)
Information about what actions to send (you can set up several robots on the account to set up different broadcast conditions for different channels or symbols)
What information will the message contain
Displaying the sub control panel
Send a profit statement at the end of each trading day.
Description of settings:
Название:
Значение:
Описание:
Main settings:




Bot token:
your bot token
Generated when creating a Telegram bot.
Chanel ID:
ID
Can be found at https://api.telegram.org/botTOKEN_BOTA/getUpdates
Magic list
-1 0 444
Space-separated values of magic orders / positions. "-1" -all positions, "0" - opened manually,
or, separated by a space, magic numbers of experts from which signals are planned to be broadcast.
Symbol list
EURUSD.i GBPUSD.i
Space-separated names of symbols from which we will broadcast signals. "All" - from all symbols
Control Panel
true/false
Displaying a panel with additional buttons for sending profit per
day / week / month and turning off the broadcast
What information we send:




Open position:

true/false



Position opening
Open order:

true/false



Placing an order
Move order:

true/false



Moving an order
Change stop loss level:

true/false



Changing the price level of limiting losses - Stop loss
Change take profit level:

true/false



Changing the price level of profit fixing - Take profit
Close position:

true/false



Closing a position
Delete order:

true/false



Deleting an order
The message text should include:


What the message sent to Telegram will include:
Symbol:

true/false



Symbol name
Ticket:

true/false



Unique identifier of position / order
Volume:

true/false



Position / order volume
Time (open/close):

true/false



Opening / closing time
Price (open/close):

true/false



Open / close price
Take profit price:

true/false



Profit fixation level value - Take profit
Stop loss price:

true/false



Limiting loss level value - Stop loss
Profit:

true/false



Profit when closing a position
Other:


Send profit report every day:

true/false



Send the profit value of closed positions for the last trading day.
To set up a bot, you will need a "Bot token" and "Chanel ID", then it will be described how to set it all up (below there is a video instruction)
Enter Telegram into the search, "BotFather" in the window that opens, press "/ start" and enter "/ newbot"
After creating a bot, write its "Bot token" and name to a text file.
Create channel
In the channel, click "Add users" and in the search, enter the name of the created bot. We add it as an administrator with the right, "Post messages".
We write any message in the channel.
Follow the link https://api.telegram.org/botBotToken/getUpdates (If the page is empty, repeat step # 5)
Copy a large negative number from the answer on this page. This is "Chanel ID"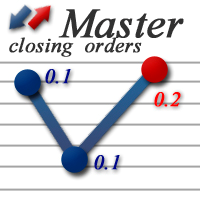 Master Closing Orders
Denis Bogdanov
This software is designed for quick and easy closing of orders. It allows to select between opposite and standard closing of orders. When closing by an opposite order, we do not care re-quotes and slow broker execution. Closing by virtual StopLoss and TakeProfit or using a virtual panel. Flexible configuration and versatility. It is implemented as an additional panel with user friendly interface. The EA will be useful when used correctly, please read carefully the description of the buttons and
FREE