Visão global

Comentários (11)

Discussão (3)

O que há de novo
EasyPen Free
Esta é a versão demo de EasyPen. Ele foi projetado como uma maneira bonita e inovadora de criar e gerenciar todas as suas análise do gráfico, rabiscos, anotações e muito mais. O app tira proveito da nova tecnologia MQL5 para oferecer uma experiência sem paralelo em outros aplicativos ou em versões mais antigas MQL.
Um App que muda tudo
Não há nenhum app de desenho existente que permite o nível de personalização que o EasyPen oferece. Mude a cor da caneta, escolha o tamanho do pincel, salve os desenhos, mantenha os desenhos anexados a posição específica no gráfico e muito mais. Com mais de 210 cores e 6 tamanhos de pincel, você pode fazer as coisas parecerem da maneira que você quiser.
Simplicidade com funcionalidade
EasyPen é bonito e fácil. A interface é limpa e intuitiva, mas por trás de seu exterior suave, EasyPen carrega um soco poderoso de produtividade! Expresse-se com drawing pen, customizável com múltiplas cores e larguras de linha.
Características:
Desenhe no gráfico;
Use a função "fill" para mudar de cor para áreas maiores;
Adicione seus indicadores favoritos no gráfico, e desenhar em cima deles;
Quer maior - role seu gráfico e continuar a desenhar. Seu desenho anterior será anexada ao gráfico e não desaparecerá .;
Fácil de remover com clique do mouse sobre um botão na tela;
Salve seus desenhos e mostrar a seus amigos mais tarde;
Escolha qualquer cor que você quiser - há todas elas;
Escolha 6 diferentes tamanhos de pincel;
Desenho rápido e suavizado;
Cor de fundo independente.
EasyPen oferece uma experiência e características diferente de qualquer outro, ele é uma criança ambientalmente amigável, só sai com pessoas respeitáveis, e vem recomendado por 4 em cada 5 traders loucos. Faça um teste com EasyPen!
Alterações na versão 1.2
Corrigido o problema onde a pintura não foi anexada corretamente ao gráfico;
Funcionalidade 'fill' Adicionado.
Alterações na versão 1.1
Ícones ausentes acrescentado;
Os compradores deste produto também adquirem
EasyPen
Karlis Balcers
EasyPen is designed as beautiful and innovative way to create and manage all your chart analysis, scribbles, notes and more. The app takes advantage of new MQL5 technology to offer an experience unseen in the other apps or in older MQL versions. An App That Changes Everything There is no existing drawing app that allows the level of customization that EasyPen offers. Change color of your pen, choose brush size, save drawings, keep drawings attached to specific position in chart, and more. With o
10 USD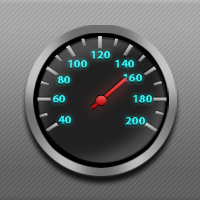 TickSpeed
Karlis Balcers
Indicator to measure market activity and to show speed of price in pips/sec. Have you been wondering, what is current speed of the market?   I see the ticks jumping up and down, can I measure their speed? All these questions can be answered by Tick Speed v1.0 - good looking indicator with good configuration possibilities. It will show you directional movement speed in ticks per second or in time defined by you! Good for scalpers, good for long term-traders. Good for beginners, good for pros. T
10 USD
Fixed issues caused by updates in MQL5 language.