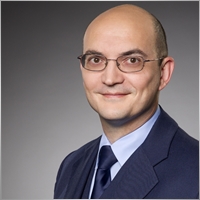 1 年

経験

53

製品

53

デモバージョン

0

ジョブ

0

シグナル

0

購読者
Hello everyone!
I am an engineer, economist, and doctor in economic informatics.
I have designed algorithms and automated trading software since 1998.
My work can be found and analyzed here:
https://pauna.pro/algorithms.
All my software can be tested and purchased only from the MQL5.com site.
Under my profile, you can find my original indicators and four types of experts: Predictors, Retractors, Collectors, and Traders.
The Predictors are trading several financial markets by predicting the next price evolution through different original methods.
The Retractors detect and trade the price retraction moments of the main financial indices using Relative Cyclicality indicator.
The Collectors add frequent profits from different markets using smart triangular strategies and Relative Cyclicality indicator.
The Traders include classical strategies for multiple markets also filtered with the dependable and unique Relative Cyclicality.
My EAs are ready-to-use. For USD real MT5 accounts, there are no significant differences between the backtest and real results.
I am not offering signals or real accounts history. I don't want to trick anyone. Past performance does not guarantee future profit.
The markets are changing continuously, and unpredictable news disturbing the continuity of the mathematic functions every day.
A stable Risk and Capital Management Strategy is strongly recommended for any case to ensure profitability in the long-time run!
There is no private group, chat, or any other losing time resources around my software. I'm using only the email and mql5.com site.
All default settings are optimal for the specified market. Anyone can use my EAs as they are presented; there is no hidden information.
Anyone can send me pertinent questions about my software, but please keep it professional. I'm not here for jokes or useless socializing.
I am here to offer professional, dependable, and profitable trading software. Anyone can test my software for free and find the difference.
I am not commenting on programs made by other authors except the public feedback I am offering for every used product after real tests.
If my feedback is positive, that software is profitable in my real trading account, and I am using that software in my real trading portfolio.
For those authors I gave positive feedback: Congratulation! You are part of a small group of people capable of making profitable software!
Regarding my negative feedback: I test at least two times an expert advisor in my real money account before concluding it is unprofitable.
For those authors who hate my negative feedback so much, I have only one answer: your trading software is not good enough; work more!
If anyone has a stable trading algorithm and wants to improve it, I am ready to help with my math and my 25 years of trading experience.
Thank you, everyone, for your interest!
Keep it safe by using a low-risk profile,
and enjoy the software and the profit!
Cristian Mihail Pauna, Ph.D.
プロファイルまたはユーザー検索を経由して友達を追加できます。追加するとオンラインステータスがわかるようになります。