Why is forex trading better with a VPS?
Stable connection, minimum ping and the best performance
Trade execution delays are a very important aspect of trading. They are caused by technical reasons and can reduce your profits.
For example, your platform sends a buy EURUSD order at 1.11111. However, it reaches to the server 300 milliseconds later when the price is already 1.11114. As a result, your potential profit will be 3 points less. This may happen to any of your trades.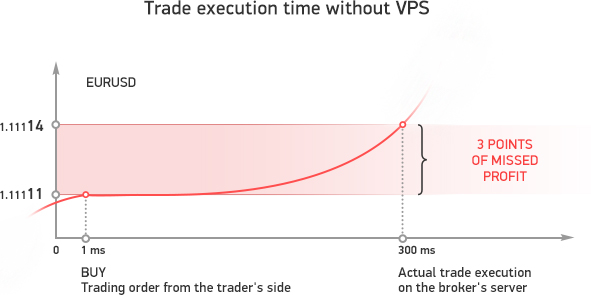 The root of this issue lies in the network infrastructure between your PC and the broker's server. There is no way to avoid it, and the solution is to reduce the distance between the two computers. This is exactly how our VPS solution works offering traders minimum pings.

Let's go back to our example. Suppose that you use MetaTrader VPS. Your virtual platform sends a buy EURUSD order at 1.11111. This time, the operation is performed in 1-2 milliseconds, while the price has not yet changed. After another 300 milliseconds, the quotes have reached 1.11114 meaning that you already have a floating profit of 3 points.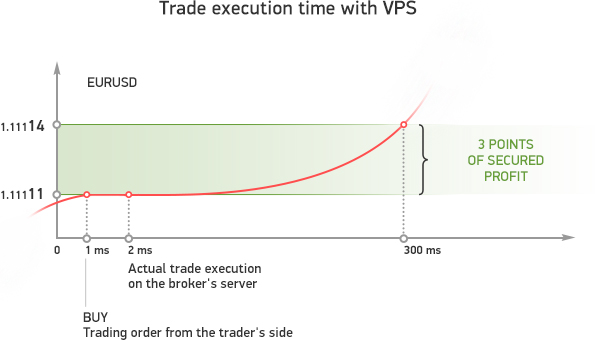 This has become possible thanks to the instant execution of your trading strategy. Forex VPS eliminates unnecessary delays from the trading process and saves your profit.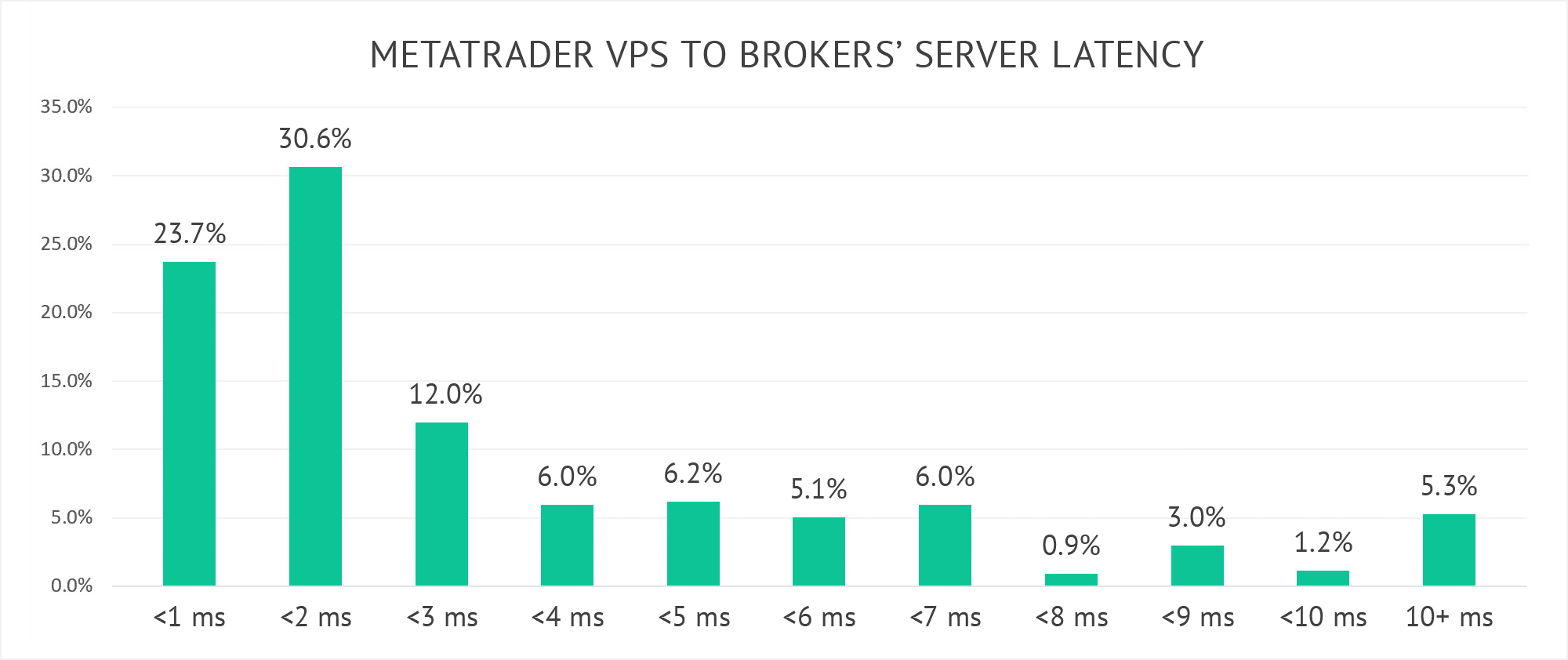 We are constantly modernizing our network to minimize ping — the current network latency provided by MetaTrader VPS is less than 5 milliseconds for connections to 80% of brokerage servers.

Why do you need a round-the-clock performance?
We guarantee that your virtual platform will be connected to the broker's server 99.99% of the time. All this time, your robots will be able to receive quotes, analyze them and perform trades.
When copying trading signals, the VPS becomes indispensable. Your provider may work in a different time zone or perform trades at a time that is inconvenient for you. But thanks to the virtual hosting, they still bring you profit.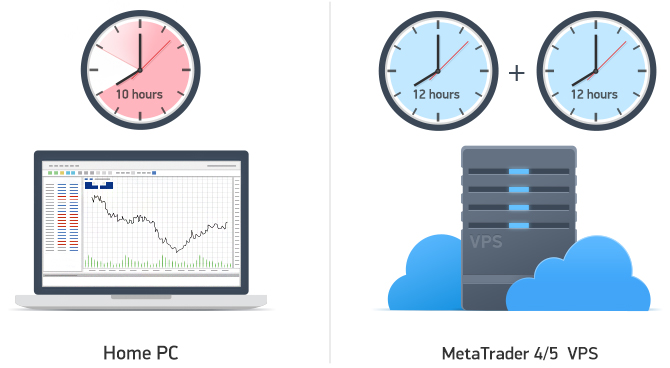 A home PC allows you to implement only a part of trading possibilities on the market, while the forex VPS enables you to implement 99.99% of them.
Why 99.99%? This is the uptime and online percentage value guaranteed by hosting providers for our servers. They feature back-up power sources and communication channels. In case of a force majeure, this will keep your virtual platform in working order.
If you use a home PC, there can be no guarantees. You run the risk of remaining without electricity or the Internet connection at the most critical moments leaving your floating profit vulnerable.
Forex VPS for MetaTrader 4/5 is a perfect solution for round-the-clock trading. It ensures that you remain in the market almost 100% of the time, provides the best performance and saves your profit.