Kuiper eurusd M30
Kuiper Portfolio, is a portfolio with 15 selected strategies that works on EURUSD M30. The big statistical work is to combine all the strategies with inverse correlation, this allows to limit the draw down on the Balance. If you are a Fund Manager, the is one of the instrument you need. The non-correlation of the various EAs, make this tool particularly effective.
DASHBOARD
The Kuiper Portfolio includes an advanced dashboard that allows the user to check the progress of each single strategy, the ability to stop the EAs that perform less in a period, close orders.
PROCESS OF CREATION
Numisma creates a collection of many EAs, but not all of them can fit into a portfolio.
Each EA must pass rigorous stress tests before being selected for the final product (eg MonteCarlo).
Once the first Portfolio has been composed, we carry out a statistical correlation study, which allows us to identify which EAs work best together.
At the end of the process, we create a Money Management based on the characteristics of each EA. This is very important.
SETTINGS
Capital to allocate for the all system= you can set a threshold value below which the wallet will stop (We suggest to use minimun 2000,00);
Entry lots= if 0 you can set a lots for each Strategy in the Portfolio, else you can use the same lots for all strategy;
Lots Multipler= you can set a specific lots for each strategy and use a multipler for increase or decrease all lots;
Show Dashboard = choose if you want show or not the dashboard. In tester, without dashboard, the system will be faster;
Frequency to update Dashboard = choose the seconds for updating datas on Dashboard. Low value will use more CPU;
DD for strategy X= Max DD permitted in strategy X;
Lot size for strategy X= Lot for strategy X;
CAUTION
The Kuiper portfolio has the possibility to set lots, draw dawn, allocated capital: it is essential that the user is aware of the risks of a too aggressive or unsuitable setting.
The minimun Balance suggest to start Portfolio is 3000€. We suggest to start with 5000€.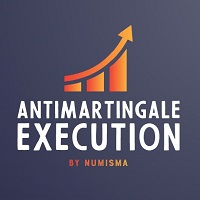 AntiMartingale Execution
EMILIANO LOVATO
AntiMartingale-Execution is a pyramidal Money Management system capable of increasing positions as equity increases using the positive margin of the transaction. It is possible to set the capital for each operation, the operating and maximum margins and the target level to be reached. Once the general trade settings have been made, it is possible to preview the grid of operations that will be activated by pressing the BUY / SELL button. If necessary, it is also possible to close all operations
339 USD
- fix minor graphical bugs;