Pro Currency Strength Meter
Currency Strength Meters are a great way to identify strong and weak currencies.
With this CSM indicator attached to your chart, you will get a clear overlook over the 8 major currencies: USD, EUR, JPY, CAD, CHF, GBP, AUD, and NZD.
Suggested timeframes to scan is:
M15 - H1 - H4 - Daily
You can however just change timeframe to check in the settings. Bear in mind that scanning very low timeframes such as M1 will require a lot of resources and might make your mt4 terminal slow.
The strength scale goes from 0 - 100 and by default we consider:
Strong: Currencies with a strength number higher than 60 (Colored green)
Neutral: Currencies between 40 and 60 (Colored yellow)
Weak: Currencies with a strength number lower than 40 (Colored pink)
Note: You can change the color criteria if you want to define strong and weak currencies differently than the default settings.
Attention! If you own my CSM indicator you can ask me to get my Trade scanner for free! It will scan the markets and only show currency pairs that meet Adam Khoos criteria for trading Trend Rider and Bounce. Just send me a message on telegram to get the free scanner. (@traderknudsen)

If you want CSM numbers to be close to Adam Khoos numbers make sure you set "Triangular weightning" TRUE in the settings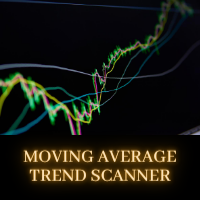 Moving Average Trend Scanner
Oystein Knudsen
This is a brand new trend scanner for all of us that love to use different kinds of moving averages to define a trending market. This scanner is very useful and saves you a lot of time when you want to look for trending markets.  In the scanner, you can choose to either use two different moving averages or three when defining a trend. Some like to use f. ex. the 50 EMA and the 200 EMA. If 50 is below 200 they will consider it a downtrend.  Others like to use three moving averages. This can be e.
199 USD
One Click Strategy
Oystein Knudsen
One-Click Strategy One-Click Strategy is designed to make your life easier when placing trades. It is suited to be used with common strategies where you place your stop loss over the recent high or below the recent low. This is very common when you trade support and resistance for a bounce or break out.  Want to sell or buy? Press "sell" or "buy" and the SL is placed above/below the recent high/low with a target of your choice. Lot size is calculated based on your settings. Taking trades tak
129 USD
Just made the values from the CSM open so it can be read off by other programs like scanners for those who use it.