Adx Macd Duo with Alerts MT5
Adx and Macd are powerful indicators which can warn you of a change of direction. Put them together with this great indicator that will warn you of impending changes long before any ma lines cross. More screen shots on the MT4 version. Arrow indicates a solid macd cross and the check marks show the adx movements. You can trade the long term with the macd crosse and scalp the adx changes while you hold the main trend. Thanks for checking out my indicators.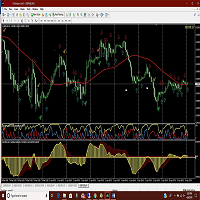 Adx Macd Duo with Alerts
Lora Lunden
Amac indicator will give you alerts when the ADX crosses and also when the two MACD indicators cross.  Helps in determining the trend direction, good for scalping against the main trend as well.  Get mobile alerts and email in addition to the platform alerts.  Arrows indicate MACD direction and Check marks show ADX turns.  Works on all time frames but you can get more pips by using the 30 min and above.  Be sure to view the photos!
75 USD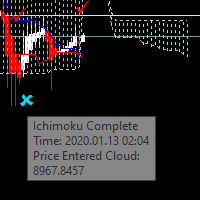 Ichimoku Complete
Lora Lunden
Have you ever tried to trade with the Ichimoku indicator only to wonder whether to stay in or close the trade?  You will now know precisely what price is doing so you can choose your strategy.  There are many different ways to trade Ichimoku and I'm confident you will find your strategies much easier to implement with the Ichimoku Complete.  A bonus is that the parameters are fully adjustable for those trainers who ask you to change the values of the indicator.  In this way you can use one strat
75 USD