Visão global

Comentários (10)

Discussão (57)

O que há de novo
Fussy Logic EA
Fuzzy Logic EA
EA is developed using custom Fussy Logic algorithm providing deep history exploring and making decision based on it.
It is working on all timeframes but I advise to use it on H1 timeframe. You do not need to optimize or adjust EA inputs as it never work. Optimization is histoical fitting and will lead to losing in live trading. All you need is to select Money Management mode and choose appropriate risk level. All the rest EA will do itself.
EA is observing all 28 main currency pairs and intended provide the best performance on major USD currency pairs:
EURUSD,
GBPUSD,
USDCHF,
USDJPY,
USDCAD,
AUDUSD,
NZDUSD
It has a set of useful features:
Money Management: Fixed Lot / % Risk for each trade / % of Account Equity,
Reward to Risk Ratio,
EA can close the trades by weekend,
EA can work in usual or Stealth Mode. In Stealth Mode Stop Loss and Take Profit are hidden,
EA has Account protection feature. It will not allow your Account Balance / Equity to fall below predefined threshold. It could trail your Balance Equity and will stop further trading as soon as exact drawdown is reached,
EA can trigger all types of alerts: pop-up, sound, email, push notifications,
EA has user defined Magic Number and comments.
It is not a scapler and most EA trades has targets and stops in several hundreds of 5-digit points, trades are lasting for several hours.
P.S. Please pay attention that EA is intended for long-term trading and might be not winning for several days and maybe weeks, sometimes up to one month.
Os compradores deste produto também adquirem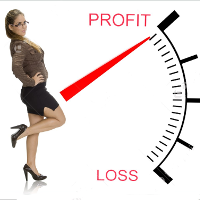 Profit Loss Meter
Alexander Sevastyanov
This indicator allow you to measure Profit/Loss of current, closed or future trade in account currency and estimate margin level at the trade close point. Profit/Loss indicator is based on MT4 native Crosshair instrument and has following inputs:  Trade Direction = Buy/Sell Lot size = 0.1 Font size = 8 Font color = DeepSkyBlue Offset horizontal Offset vertical   
30 USD
Downgrade to v1.0 according customres requests.
User comments added according customers request
Improved algorithm, higher return, lower drawdown. Better reliability.