Visão global

Comentários

Discussão
Sniper Breakout
This EA Sniper Breakout is based on a meticulous breakout strategy and it identifies a "good" support / resistance level in which to place a pending order with a risk 10 pips and a take profit with RR of 1:2,5.
The reference timeframe (the recommended one) is M5, and it is valid on EURUSD.
The accurate management of trades gives great performances and a low DD!
Here the settings:

risk: risk in percentage based on the balance (for example, 1 means 1% risk)
compounding: improve the money management with the risk based on the compounding effect.
lots: option to open orders with a predefined lots, specified in the option lots. If is 0, this option is not used.
RR: Take Profit calculated throught the Risk/Reward. For example if the SL is 100 Point and the RR is 2.5, then the Take Profit is equal to 100 x 2.5 = 250 Point.
distSL: distance of the Stop Loss in Point
filterHoursLimitation: filter that allows to stop the EA during the specified hours in HBF and HBT (for example HBF 23 and HBT 23 means that from 23:00 to 23:59 broker time the EA is stopped).
HBF: starting hour when the EA is stopped.
HBT: ending hour when the EA is stopped.

maxSpreadLimitProtection: if the spread is larger that this value (in Point), trades are cancelled and the EA is paused (until the spread returns back below the value indicated).
StopProfitStrategy: number that define the Strategy of the Stop Loss management during the trade lifetime (leave the default number or put 0 to not use this option).
TrailingStopMovement: this option allows moving the SL dynamically (Point by Point) until it reaches the breakeven point. It is a Trailing Stop till breakeven Point.
filterCloseBeforeWeekend: if is true the EA close and delete all orders on Friday at 21:00 broker time.
partialRange1/partialProfits1: range calculated in percentage from the total distance of the Take Profit (in this case 0,8 x 250 = 200, when the trade reaches 200 Points in profit it takes partialProfits1 0,333 (33% or one third of the position in profit).
partialRange2/partialProfits2: same at the previous one, in this case partialRange2 has to be greater than the first one, otherwise if 0 is not used
activateMoneyManagement: the money management included is the Anti-Martingale system that increase performances and lower the DD (I created a Money Management alghoritm included!)
commentTrade: put your preferred comment or leave blank to the default comment
This EA runs EURUSD M5 (default parameters).
Os compradores deste produto também adquirem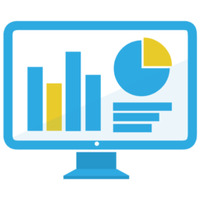 Trader Dashboard
Roberto La Bella
This Dashboard is full of very useful tools for the Trader! You can set a specific Magic Number and the order comment, manage orders such as Stop Losses, Trailing Stops, partial profits, switching charts, and much more! Personally I always use this Dashboard for my trading and it helps me a lot! With the new update you can move the dahsboard wherever you want in the chart, by double-clicking on the blackboard and moving it! Here the settings: [Pending] close to the button there is an edit
100 USD