Katana Trading Panel
Every time Trader opens a trade, he must know the profit and risk of the trade he made, so that he can determine the risk and profit opportunity he will get. Determining this calculation manually can be quite troublesome, especially if it has a lot of open trade to do.
The Katana Trading Panel is a utility tool that really helps traders meet those needs. Opening a Market or pending trade, determining lots, pips, price positions, how much USD, and what percentage of risk can be set automatically.
This utility is designed with precise and easy to use.
Main Feature:

Open trade in market and pending (buy stop/buy limit/sell stop/sell pending)
Determining Lot Size, Pips, Prices, Profit Loss in USD, and Percentage from Balance can be set automatically
Option to draw line of Open Price, SL and TP
Drag the line to set Price, SL or TP
Some usefull info about the pair, spread, pipvalue, balance and equity.
For the demo version you can follow this link, mql5.com/en/market/product/54606
trade manager, trading manager, trade panel, trading panel, trade assistant, trading assistant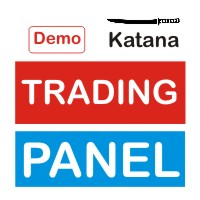 Katana Trading Panel Demo
Bobby Prabowo
The demo version only run on pair EURUSD, for full version please follow this link,  mql5.com/en/market/product/54595 Every time Trader opens a trade, he must know the profit and risk of the trade he made, so that he can determine the risk and profit opportunity he will get. Determining this calculation manually can be quite troublesome, especially if it has a lot of open trade to do. The Katana Trading Panel is a utility tool that really helps traders meet those needs. Opening a Market or pendi
FREE
Katana Trading Panel
Version 1.1:

- Fixing form bug
- Fixing deleting objects when a utility is close
- add pair info setting
- add general info setting