Información general

Comentarios

Discusión

Novedades
Pilares
OBSERVAÇÃO:
EXPERT PILLARS
The Pillars Expert was developed based on the Monthly, Weekly and Daily chart. It has a hit ratio of more than 98% hit because it does not use Stop Loss and relies on the strategy of good base tops and historical funds in the last 5 years on the monthly chart and has its input trigger in the
M3O below the strategy configuration parameters.
Parameters
1 - Dashboard: Where account information is displayed.
2 – Initial Data: You can operate Buy or Sell as we operate larger charts do not care about this parameter because the calculation is based on the monthly, we have here the Take Profit it comes zerobut você can use as the strategy is based if in the long run we use trailing stop.
3 – Spread: As some pairs have very high spread mainly the exotic ones you can adjust here it is with 100 points.
4 – Positive SWAP: For those who like dividends you can choose to trade only positive swap.
5 – Margin Level: As our strategy does not use stop loss what you need to watch out for is with the margin level if you have a leverage account of 1x500 keep your margin level above 1500% if your account is 1:30 then keep above 200% then in this parameter you can manually fill in or leave in the automatic that the expert has already preset the lock if your account has very high leverage you can change. For capital above $10,000 always leave the level above 250% for 1x30 and another 2500%.
6 – Draw Down: As we stuck to security then we have this parameter where you can put the drawdown to reach that level no longer open orders.
7 – Tops and Bottoms: You can change the calculation period in years and also change whether you consider leftovers or the candle on the monthly chart and another important option is the range it is the filter for us to stay away from the median of the monthly chart in relative percentage between the top and bottom.
8 – Martin Pilar: It should be used for accounts with capital of more than 5000 thousand because it is based on the counter trend if you set in the parameter (Distance thousand points) and the market come back against 3 thousand points it will open the proportional lots example:( 1 order 75%, 2 orders 50%, 3 orders 25%) so for security to use this option have to put true.
9 – Total Lots: It is more of a security lock if you have a capital of 10,000,000 dollars you can lock for it to open lot up to 10.00 max.
10– Total Lots: Batch Management you have 2 options put manual or let it do automatic calculation it is based on the rule for every 100 dollars it opens 0.01 lot.Inform the risk percentage is good to always keep low to give more opportunities if the market comes against.
The Distance parameters is always the distance against bias and the maximum orders I want it to open per pair for safety he keeps 3 orders.

11- Trailing Stop:If you do not want to use and use only Take Profit only put zero.
12– BreakEven:also a good option is to just put in example points:( Market walked 100 points lock 20 points or zero to zero) goes from each.
13- Order Close :I think a great option for every 3% profit it closes only positive orders.
14- Media Moves: Input trigger you can change the shift shift as per your need.
Los compradores de este producto también adquieren
Otros productos de este autor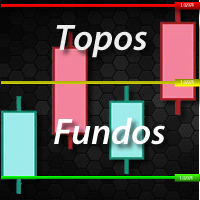 Topos e Fundos Historicos
Valter Cezar Costa
TOPOS INDICATOR AND HISTORIC BACKGROUNDS   The Indicator of historical tops and backgrounds is based on the monthly chart where sharks hide so it was developed to facilitate the identification of these regions. The available features are the Incoming Triggers alerts and notifications that are sent to the mobile phone.     Parameters 1-) Tops and Bottoms: You can change the color of the lines and the period in years and the filter range between the top and bottom and the median and consider the b
FREE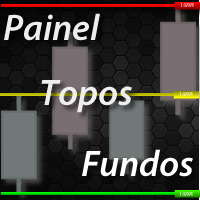 Painel de Topos e Fundos Historicos
Valter Cezar Costa
PANEL OF TOPOS AND HISTORICAL BACKGROUNDS   This is a panel that does not open orders only manages all Symbols and calculates the tops and bottoms and presents the calculation in relation to the top and bottom in 5 Years, 2 Months and 1 Week. It is ideal for filtering the pairs that are in the good regions to operate. You can filter the range and choose whether to consider the body or shadow of the candle in the monthly. Good luck...
FREE
Ola nesta versão foi colocado novos gatilhos de entradas Bands,Martelos e filtros de topos e Fundos e variação diária do preço do dia anterior.
foi incluído o logo para identificar
Ola was added 4 more Stochasti + MACD input triggers one for M20, M30, H1, H4