Información general

Comentarios (7)

Discusión (28)

Novedades
Money Printing Machine MT4
Important Note:
the Selling Price of this EA will increase by 10% once 10 units are sold. Get Yours Now!
Introduction
True to its name... the Money Printing Machine (MPM) EA will make money in Uptrend, Downtrend, Ranging markets.
The High-frequency trading algorithm will even allow for profiteering from forex rebates brokers i.e. RebateKingFX, PayBackFX, CashBackForex etc.
Prices move in money markets and MPM is designed to capture and profit from these movements.
MPM does not rely on indicators, do not use toxic strategies like Martingale, Hedging or Grids to gain a profitable advantage. MPM is designed to stay out of dormant markets to in order not to be caught in a devastating account margin drawdown.
Designed Mechanics
MPM works by placing 2 pending orders with an offset from the current price. Pending orders refresh rate can also be set in order to stay updated with price movements and avoid false breakouts.
When there is a sudden surge in price, MPM will capture the breakout and delete the other pending order. As price continues to surge, trail stop function will kick in once the designated profit range is reached resulting in a profitable trade even if price reverses. When the price is ranging and the trade is dangling, MPM algorithm will resume placing 2 pending orders in order to capture the next rapid price change. The total number of trades that can be opened can also be set in order to better manage risk.
On top of the above-Designed Mechanics, and depending on the investor's risk appetite, the following parameters can be controlled and customized for use in other trading scenarios i.e. New Events etc:
1. Time (When to start and when to end)
2. Money Management (How much to risk in %)
3. Gap from Current Price (How far from the current price to set Stop Orders)
4. Lookback for Highest High and Lowest Low (Recent historical highs and lows in order to use as Buys and Sells Stop Orders)
5. Reverse Trades (Invert Buys to Sells)
6. Overall Account Protection (All trades to be closed when losses reach this percentage)
7. Option to Resume Trading (To restart this EA or not after Overall Account Protection is Triggered)
8. Spread Control (Pending Orders are removed when broker spreads are beyond specified levels)
9. Continually Open Orders (Ability to Keep Opening Pending orders after earlier orders are triggered with a setting on the total amount of orders)
10. Pause Duration Before Opening New Pending Orders (Ability to Set Pause Duration before Opening New Orders in order to prevent the over-saturation of orders at any particular price point)
The default setting is applicable for most if not all currency pairs.
Recommended Trading Pairs
GBPAUD, XAUUSD (Gold), GBPJPY, AUDJPY; M1, M5 Charts.
Requirements:
Fast ECN Broker with no restrictions on hyperactive trading algorithms or robots.
Tight spreads of less than 60 points.

Disclaimer:
Backtest results does not guarantee future performances. Traders/Investors need to exercise due care in money and risk management.
As this EA is active down to the seconds, backtest data may not be detail enough to factor in the difference in seconds. Hence, it is more prudent to run the test on a demo account first.

Los compradores de este producto también adquieren
Otros productos de este autor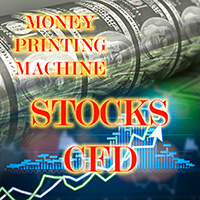 Money Printing Machine MT5 Stocks CFD
Caroline Huang
Live accounts monitoring can be found here:  bit.ly/stocks_cfd Live Signals Monitoring can be found here:  2783 6918 1566 7984 Introduction The fundamental difference in Stocks compared to Forex market is that the stock price of financially sound companies will grow over time. The  Money Printing Machine MT5 Stocks CFD  EA is designed to trade in the Stocks CFD market. This EA has been tested to work well in the following symbols: Adobe;AdvMicroDev;Amazon;Alibaba;Apple;Berk
499 USD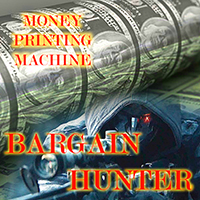 Money Printing Machine MT5 Bargain Hunter
Caroline Huang
Live Accounts Monitoring can be found here:  bit.ly/bargain_hunter_ea Live Signals Monitoring can be found here:  9098 7984 Introduction The fundamental difference in Stocks compared to Forex market is that the stock price of financially sound companies will grow over time. However, from time to time, the stock price will dip or fall due to institutional profit taking, short-term under-performance and macro adverse economic news. This opens up great a opportunity to then enter t
699 USD
Rectification of coding issues on Lot Sizing.

Remember to use the settings file issued in Comment #9 in the comments section for testing and actual use.
Depending on whether your Broker will hunt for your StopLosses or cause high slippages or not, users may want to turn off the Break Even Function.

Version 1.1
Major overhaul of order entry methods, added option to use hidden Stop Orders instead of Stop Orders which will vastly reduce broker's server load and EA hyperactivity.

Addition of Stop Orders indicators in Chart with colour selection option.

Addition of hidden StopLoss & TakeProfit Settings to prevent broker StopLoss hunting.

Addition of Trade Comments.

Addition of Further Offset on top of the Gap from Current Price (in Points).

Updated default values.