Información general

Comentarios (1)

Discusión

Novedades
Adx scalper arrow
Dial indicator based on one ADX indicator. Gives buy and sell signals when DI + and DI - lines intersect.
The indicator works on all timeframes and currency pairs.
In the premium version the signals are filtered, they are less, but they are more reliable.
There are settings of the indicator period, you can experiment.
ADXPeriod=14 - The period of the indicator.
The indicator gives high-quality buy and sell signals, suitable for intraday trading.
Los compradores de este producto también adquieren
Otros productos de este autor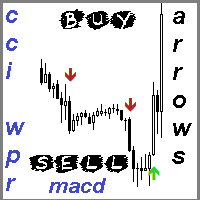 Scalper and swing trading
Dmitrii Melnikov
Scalper and Swing Trading is a dial indicator containing 2 strategies, the first scalping for intraday trading, and the second swing for determining reversal points. Scalping strategy: This strategy is based on 2 indicators MACD and CCI both indicators show sharp price jumps, strong oversold and overbought. Swing strategy: This strategy is against the trend and shows weekly oversold and overbought, abnormal decline and rise in prices, but the signals on it are rare. In determining the pivot poin
1 600 USD
Отфильтровал сигнал, теперь показывает реже, но сигналы стали лучше.