Información general

Comentarios

Discusión (5)

Novedades
Pattern Alert
Did you ever miss a reversal signal because you was not sitting in front of your screen?
Pattern Alert indicator is useful if you want to scan multiple charts for specific candlestick patterns without sitting in front of the screen all the time. It detects your manually drawn support and resistance zones on the chart and sends out an alert on your screen and to your smartphone (MT4 mobile station required). It works on all timeframes and you can adapt the zones to your individual needs (e.g. lower ranges on lower timeframes).
The new version uses rectangles as zones, so that you can set up a zone where you expect the market to form a reversal signal.
Application

Price action trading
Swing trading
Trend trading
and many other trading styles
Features
Detects support and resistance zones drawn by the trader on the chart
Checks for any changes on every tick, so it is easy to use if market conditions change
Sends out a smartphone notification plus a MetaTrader alert on your screen including symbol, timeframe and the type of pattern it detected
Supports you and your trading on every timeframe from one minute to one month per candle
Used variables
Resistance: defines the color for your resistance zone
Support: defines the color for your support zone
Show_Levels: turn on to show the support and resistance levels used by the indicator
How to set up the indicator
Pull the indicator to your chart
Select the colors you want to use for support and resistance zone
Draw one support and one resistance zone using the predefined colors
Wait for a smartphone notification if a candlestick pattern forms within your predefined zones
Supported candlestick patterns
Engulfing candle
Rejection candle
Inside bar
... if you want to see more patterns, just tell me in the Comment section
Los compradores de este producto también adquieren
Otros productos de este autor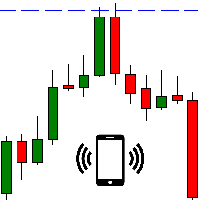 Price Action Pattern Alert
Thorben Koch
Ever missed an entry at a significant price action level? This indicator scans all the symbols you want to watch closer and sends out an alert to your smartphone when the market formed a significant candlestick pattern with the close of the last candle. Supported patterns Engulfing candle Rejection candle Inside bar to be continued... Indicator Parameters Max_Dist: How many pips is the price allowed to get away from the defined level (see screenshots for more details) Min_Dist: How near has
200 USD
Cleaned up the source code (usage and declaration of variables)

Do you want to add any more candlestick patterns?
Write me a private message.
- fixed a problem with the calculation of the upper / lower price of the support / resistance zones