Información general

Comentarios (1)

Discusión (2)
RJT Comets for MT5
Sigue la estela del cometa para conocer el desarrollo de la tendencia.
Este indicador te ayudará a determinar la evolución del precio dependiendo de cómo estos astros se muestran en el gráfico.
Cuando un cometa aparenta detenerse, abre sus colas considerablemente y nos avisa de un posible cambio en la tendencia.
Por el contrario, cuando parece conseguir velocidad (mostrándose delgado pues las lineas de las colas se agrupan), demuestra seguridad y continuidad en la tendencia.
La cabeza o núcleo del cometa puede mostrarse en rojo o en verde dependiendo de su nivel de precio en relación al de las colas.
Cada cola del cometa es una directriz entre el precio de cierre de la cabeza o núcleo y los precios de apertura de las barras previas.
Este indicador es válido para todos los símbolos, todos los horizontes temporales (timeframes) y adaptable a cualquier nivel de zoom.
Sólo válido para MetaTrader5, encontrarás la versión del "RJT Comets" para MetaTrader4 en ... https://www.mql5.com/es/market/product/14134 )

Parámetros del indicador:
Num of Tails (2-100) - número de colas de los cometas (mín: 2 , máx: 100). Puedes seleccionar el número de barras en las que este indicador basa su información. Cada barra/vela es el origen de una cola del cometa. (si necesitas un indicador basado en una única barra te recomiendo que pruebes el "RJT Matches")


Show Nucleus - selecciona si quieres mostrar o esconder los núcleos o cabezas de los cometas. Para clarificar la visualización, puedes esconder las cabezas de los cometas.


Scheme of colors - toda la variedad de colores para el el universo y los cometas. RJT Comets dispone de varios temas para representar las figuras en el gráfico. Dado que el indicador solapa los cometas sobre las barras/líneas/velas, es necesaria esta opción para adaptar los colores y mejorar la visualización.


Size of Comets - puedes decidir las dimensiones de las cabezas y colas de los cometas eligiendo el tamaño: delgado (Thin), medio (Medium) o grueso (Thick).


Show Grid in background - Usa esta opción si deseas ocultar la cuadrícula que aparece en el fondo del gráfico.


Only One Comet - Presentar solamente el último cometa. En muchos casos, lo único que importa es lo que está sucediendo ahora. Puedes seleccionar la opción de esconder el resto de los objetos espaciales para centrar toda tu atención en el último cometa.

---
Rafa.
Los compradores de este producto también adquieren
Otros productos de este autor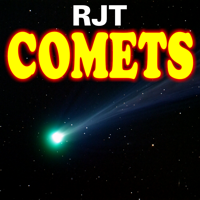 RJT Comets
Rafael Jimenez Tocino
Sigue la estela del cometa para conocer el desarrollo de la tendencia. Este indicador te ayudará a determinar la evolución del precio dependiendo de cómo estos astros se muestran en el gráfico. Cuando un cometa aparenta detenerse, abre sus colas considerablemente y nos avisa de un posible cambio en la tendencia. Por el contrario, cuando parece conseguir velocidad (mostrándose delgado pues las lineas de las colas se agrupan), demuestra seguridad y continuidad en la tendencia. La cabeza o núcleo d
450 USD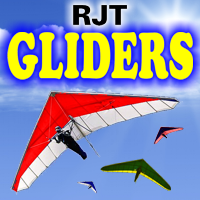 RJT Gliders for MT4
Rafael Jimenez Tocino
Este indicador te ayudará a determinar la evolución del precio dependiendo de cómo estos objetos voladores se muestran en el gráfico. Cuando los planeadores abren sus alas considerablemente nos avisan de un posible cambio en la tendencia. Por el contrario, cuando parecen conseguir velocidad (mostrándose delgados pues las líneas de las alas se agrupan), demuestran seguridad y continuidad en la tendencia. Cada ala del planeador es una directriz entre el precio de cierre y los precios high/low de l
450 USD