Overview

Reviews

Comments
SP Market Profile MT5
The SafeProfit Market Profile is the most advanced tracking indicator in the Forex Market. It was developed to track the market profile of each session of the day: Asian, European and American.
With this indicator you will operate Intraday smiling ... knowing exactly where the Big Players are positioned and the exact moment where they are going to.
The indicator is simple, fast and objective, tracking every movement of the Big Players in price.
Get out of the 95% statistic that only loses and use this sensational tool developed by Computer Scientist, Software Engineer and Financial Market Specialist Jonathas Rodrigues.
There is no need to configure anything ... just add it to the chart and wait for the breaks with the candle closed. Timeframe: 30M.
SafeProfit Market Profile Metatrader 4: https://www.mql5.com/en/market/product/56346

Buyers of this product also purchase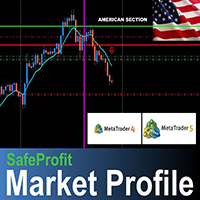 SafeProfit Market Profile
Jonathas Silva
The SafeProfit Market Profile is the most advanced tracking indicator in the Forex Market. It was developed to track the market profile of each session of the day: Asian, European and American. With this indicator you will operate Intraday smiling ... knowing exactly where the Big Players are positioned and the exact moment where they are going to. The indicator is simple, fast and objective, tracking every movement of the Big Players in price. Get out of the 95% statistic that only loses and us
50 USD