Übersicht

Bewertungen

Diskussion (2)

Neue Funktionen
Price Action Pattern Alert
Ever missed an entry at a significant price action level?
This indicator scans all the symbols you want to watch closer and sends out an alert to your smartphone when the market formed a significant candlestick pattern with the close of the last candle.
Supported patterns
Engulfing candle
Rejection candle
Inside bar
to be continued...
Indicator Parameters
Max_Dist: How many pips is the price allowed to get away from the defined level (see screenshots for more details)
Min_Dist: How near has the price to be to the defined level (see screenshots for more details)
These two parameters make sure that you won't get an alert if a price does not come close enough to your level, or breaks through the level to far. SO it helps to avoid false signals.
How to set up the indicator
Set one upper and one lower swing level (horizontal line)
Apply the indicator (it automatically detects the levels)
Define how near the close of the candle has to be to your swing levels
Wait for an alert as soon one of the specified patterns form (after the close of the candle)
That's it :)
Please send me your feedback, I'm really interested in optimizing the indicator for your needs!
Coming soon:
set up a specific time for an alert of daily candles
your wishes for new patterns
Käufer dieses Produkts erwarben auch
Weitere Produkte dieses Autors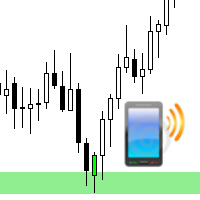 Pattern Alert
Thorben Koch
Haben Sie jemals ein Umkehrsignal verpasst, weil Sie gerade nicht vor dem Bildschirm saßen oder aus anderen Gründen den Markt nicht verfolgen konnten? Der "Pattern Alert" Indikator nimmt Ihnen die zeitraubende Überwachung der Charts ab. Er erkennt automatisch die von Ihnen eingezeichneten Unterstützungs- und Widerstandszonen und sendet Ihnen einen MT4-Alarm sowie eine Smartphone-Nachricht, falls sich eine Umkehrformation gebildet hat. Der Indikator funktioniert dabei auf allen Zeitebenen und lä
200 USD
*Fixed problems with the startegy tester (free demo). The indicator now sends out an additional alert which is shown in the strategy tester and contains the same informations as the push-notification.

*if price shoots downwards through a support level, this level now becomes resistance (and vice versa for resistance levels)