Übersicht

Bewertungen (2)

Diskussion
SaveDealsHistory
Exports the data on trades for the specified period to a .csv file. The period is specified in the parameters in hours and days to make it convenient to export the data both for a year and for the past trading session, which lasted a few hours.
Input Parameters:
hours - the numbers of hours of saved history
days - the numbers of days of saved history
The periods in days and hours are added.
The script save more data than the standard MT5 tools, which expands the capabilities of the analysis. The following information is saved as columns in the file:
Ticket - trade identifier (int)
OpenTime - trade opening date-time (datetime)
Symbol - symbol name (string)
Type - trade type (0-buy,1-sell)
Entry - direction (0-enter, 1-exit the trade)
Lots - volume (double)
OpenPrice - trade opening price (double)
Commission - commission size in deposit currency (double)
Profit - trade result (double)
Comment - comment (string)
delimiters between the columns: ";" and "\t" (tab) are output together
The data is saved to a file with the name like "DealsHistory_acc1007066_2016.01.28.csv", where "acc1007066" - account number, "2016.01.28" - saving date.
The file is placed to the "<terminal_folder>\MQL5\Files\" folder
Käufer dieses Produkts erwarben auch
Weitere Produkte dieses Autors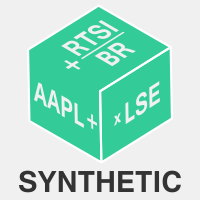 Synthetic
Viktor Lubimov
This is an arbitrage indicator. The indicator displays the chart of an arbitrary combination of trading instruments, described by the entered arithmetic formula. Using the indicator. Add an indicator to any chart. Enter the formula as a string in the indicator's parameters. All symbols used in the formula must exactly match the names in the table "Market Overview" of the terminal. Example of the formula: (SIBN + SNGS) / 'RTS-3.19' + 2.5 * GAZP / LKOH Start the indicator The formula must meet the
FREE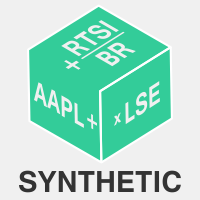 Synthetic full
Viktor Lubimov
The indicator displays the chart of an arbitrary combination of trading instruments, described by the entered arithmetic formula. Using the indicator. Add an indicator to any chart. Enter the formula as a string in the indicator's parameters. All symbols used in the formula must exactly match the names in the table "Market Overview" of the terminal. Example of the formula: (SIBN + SNGS) / 'RTS-3.19' + 2.5 * GAZP / LKOH Start the indicator The formula must meet the following requirements: The nam
FREE