Download MetaTrader 5 – the best platform for HFT!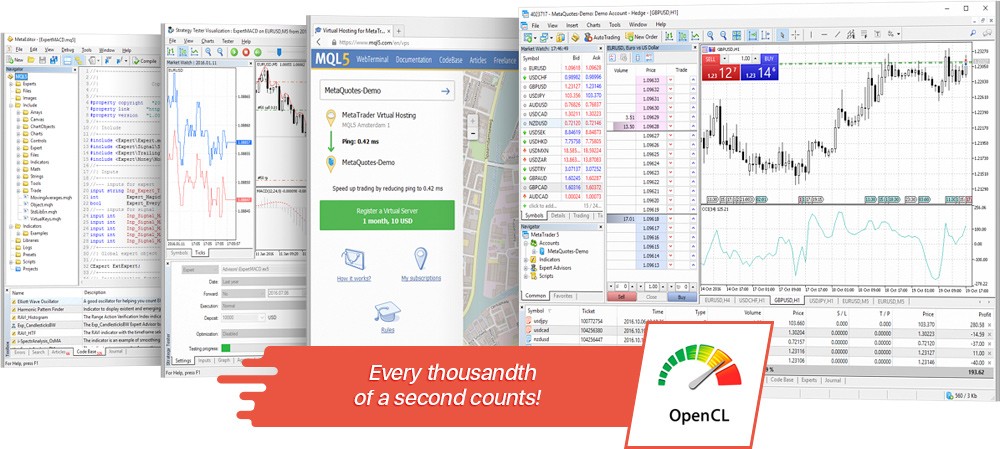 In MetaTrader 5, quotes are updated dozens of times per second. The quoting speed is an even more important factor for high-frequency trading robots. HFT robots need to receive a quote, analyze it, and perform a trade as fast as possible in order to catch the best of the market situation. Such a high speed is not available in other platforms, including MetaTrader 4, therefore MetaTrader 5 HFT traders are ahead of other platform users in terms of quote receiving speed.
MetaTrader 5 provides a very fast and efficient execution of trading robots without losing precious time. The speed characteristics of the MQL5 trading strategies language are very close to C++. Trading robots can quickly analyze received quotes and make faster trading decisions. With MQL5 such trading decisions can be made instantly!
OpenCL support further increases trading robot performance options. The OpenCL technology allows users to parallelize calculations and instantly receive results of hundreds and thousands of analytic algorithms. In high-frequency trading profitability also matters. The OpenCL support will help you choose the optimal possibility among the hundreds of options.
The last mile, i.e. the network latency to the broker's server is the bottleneck for all HFT robots. Delays of a few tens of milliseconds can cancel all the above speed achievements. Fortunately, MetaTrader 5 can reduce ping to 1 millisecond through the Virtual Hosting service. With this service, you can create a virtual copy of your platform as close as possible to your broker's server, and thereby reduce network latency.
A history of quotes is very important when testing HFT robots. The best solution is the tick history available in MetaTrader 5. Choosing another platform, in which the history of quotes is based on one-minute bars, is a big mistake, while you will not be able to properly test your HFT robot. Choose MetaTrader 5 to know exactly how your HFT robot will perform on real ticks.
Use MetaTrader 5 – every millisecond matters for high-frequency trading!