Overview

Reviews

Comments
IndInfoPanel
The IndInfoPanel indicator is based on the Three Signals strategy (see screenshots). It includes 4 indicators (UseBollingerBands, UseHeikenAshi, UseSS2009B, UseSS2009C). Parameters of all indicators can be personalized. The indicator shows the price movement direction on each timeframe according to the strategy.
Indicator window signals. A blue up arrow means bullish trend. A red down arrow means bearish trend. A yellow arrow means correction.
Signals on a price chart. Drawing up and down arrows. Sound alerts, e-mail and PUSH-notifications to your mobile phone. All parameters can be personalized.
You can use one or several timeframes (Н1, М5 or Н4, Н1 etc). The indicator can be used for both Forex trading and trading binary options. Size of the indicator window can be changed via the StartSizeMenu parameter.
Indicator Window
S - Strategy signals
PS - Previous candle
NS - Current candle
Signal - Indicator signal, but the candle on the current timeframe is oppositely directed.
Option - Indicator signal, but the candle on the current timeframe goes in the direction of the signal.
Spread - Spread
PipsToOpen - Number of points from the day candle opening.
HighToLow - Difference between High and Low of the previous day candle.
Volatility - Maximum movement of the previous day candle.
AvrSizeDay - Average number of points within N days. Configurable value.
Indicator Parameters
StartSizeMenu =0 - starting size menu
UsePeriodM1 =true - use period M1
UsePeriodM5 =true - use period M5
UsePeriodM15 =true - use period M15
UsePeriodM30 =false - use period M30
UsePeriodH1 =false - use period H1
UsePeriodH4 =false - use period H4
UsePeriodD1 =false - use period D1
UsePeriodW1 =false - use period W1
UsePeriodMN1 =false - use period MN1
UseBollingerBands =true - use indicator BollingerBands
Length =20 - indicator parameter
Deviation =1 - indicator parameter
MoneyRisk =1.0 - indicator parameter
Signal =1 - indicator parameter
Line =1 - indicator parameter
UseHeikenAshi =true - use indicator HeikenAshi
MaMetod =2 - indicator parameter
MaPeriod =6 - indicator parameter
MaMetod2 =3 - indicator parameter
MaPeriod2 =2 - indicator parameter
UseSS2009B =true - use indicator SS2009B
PeriodSS2009B =15 - indicator parameter
UseSS2009C =true - use indicator SS2009C
SSP =7 - indicator parameter
Kmax =50.6 - indicator parameter
NumberDayCandles =5 - the number of day candles
UseSignalOption =true - true-Signal, false-Option
UseAlert =true - use alert
UseSendNotific =true - use send notification
Buyers of this product also purchase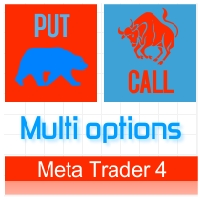 Multi options
Igor Stepanov
Multi options is a multifunctional Expert Advisor for trading binary options on the basis of the MetaTrader 4 trading platform. The EA trades at all time periods from 4 minutes to MN and any currency. It has two modes - automatic and semiautomatic. Five built-in indicators: 2 stochastics 2 MAs Parabolic Indicator parameters can be changed in the EA menu. You can connect either a single indicator, or all at once and in pairs. It offers two kinds of ММ of Martingale type. If the first type is used
30 USD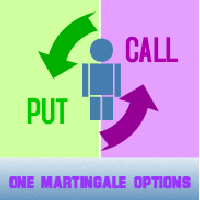 One martingale options
Igor Stepanov
This is a martingale in its purest form. The product has two modes - automatic and semi-automatic. Use on any chart timeframe. The product is designed for manual trading and tested in visual mode. It has been designed for trading binary options. Expert Advisor Menu Experens = 5 - option duration, minutes. Exp = 4 - delay 0 (+1+2+3 -1-2-3 or 0), sec. BayAuto = true - first trade, auto/manual (using the button on the chart). SelAuto = true - first trade, auto/manual (using the button on the chart)
10 USD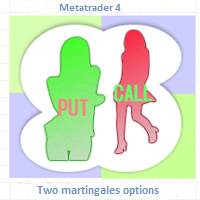 Two martingales options
Igor Stepanov
The Expert Advisor applies two types of martingale. If UseNewMod= false , adding to a position at each bar; if true , adding is used when bar is closed in the direction of a trade. The product has two modes - automatic and semi-automatic. Use on any chart timeframe. The product is designed for manual trading and tested in visual mode. It has been designed for trading binary options. Expert Advisor Menu AlertExperens = 30 - a delay for the alert in seconds. UseNewMod = true - false = adding at ea
15 USD