Overview

Reviews (3)

Comments (10)
Multi timeframe candle body plot
The indicator plots higher timeframe candle bodies behind lower timeframe candles.
View the detail of the lower timeframe candles alongside open and close prices of higher timeframe ones.
Input parameters
timeframe, e.g. PERIOD_M30 - candle body timeframe to plot.
bull_color, e.g. clrLightBlue - color of bull candle.
bear_color, e.g. clrSalmon - color of bear candle.
For example, view M30 candle bodies while viewing candle details on M5 and lower timeframes.
Buyers of this product also purchase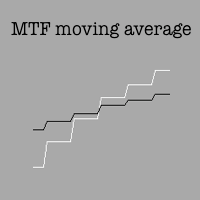 Multi timeframe moving average plot
Giles Lucas
Description A multi timeframe plot of any moving average. Displays higher timeframe moving averages on lower timeframes. View lower timeframe candles while viewing higher timeframe moving averages in the same window. Input Parameters MA_timeframe - Moving average TIMEFRAME. method - Moving average MODE. applied_price - Applied PRICE. fast_MA - moving average. slow_MA - moving average. fast_color - COLOR of FAST moving average. slow_color - COLOR of SLOW moving average. fast_style - Line STYLE of
FREE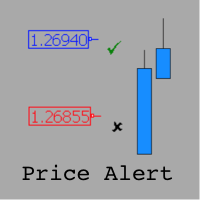 Price Alarms to smartphone and desktop
Giles Lucas
Alarms to smartphone, tablet, desktop and chart window when price passes a graphically predefined price label level. Custom price labels designed to allow a trader to enable or disable alarms with one click. Efficiency is the name of the game with this indicator. Core functionality exists by default in MT - this just makes life easy. Focus on the trading, time management and not the logistics. Input Parameters Use_SuperPriceAlarms - the on/off switch for the indicator. Alert_alarm_on -  sends
10 USD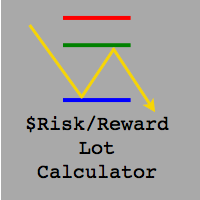 Currency risk to lot calculator
Giles Lucas
This indicator utility maintains the user defined risk/reward ratio ( Risk_reward_ratio ) between entry, stop and profit price point labels as they are adjusted on the chart. Position entry (ep), stop (sl) and profit (tp) labels on a chart. Lot size for the trade is automatically calculated to maintain the user defined monetary risk in the quoted currency ( Quoted_currency_risk ) and risk/reward ratio ( Risk_reward_ratio ) of the trade. Order entry ep, sl and tp are calculated considering spread
30 USD