Overview

Reviews (1)

Comments
MACDmaxmin
The indicator shows when there are overpricing and divergences over a normalized MACD
Plus, it displays signals with configurable alerts, self-regulating dynamic overprice levels, and a simple setup and interface.
The only indicator that automatically calculates overprices ranges!
MACDmaxmin is an indicator based on the MACD oscillator that effectively identifies trend changes in price, as it is a momentum indicator that captures the trend and shows the relationship between two moving averages of the price.
MACDmaxmin provides valuable market information and signals of overpricing, and divergences that it detects automatically. These signals are represented in the oscillator as circles for the divergence points and squares for the overprices points. You can immediately receive configurable alerts for these signals.
Furthermore, this indicator has two unique characteristics
It graphs dynamic support and resistance levels that it automatically calculates according to the market to which it has been applied and the input parameters conveniently configured by the trader. Overbought and oversold levels are also automatically calculated for each chart optimizing the results.
The second uniqueness of MACDmaxmin is that it presents normalized values ​​on a scale of -100 to 100 to get a global idea about the real movement of the market.
MACDmaxmin features
The indicator allows to generate alerts in different configurations (mobile application - Push, email, desktop application) when divergences and overpricing are detected
Soon more strategies will be implemented to have a great variety of signals and to fully exploit the possibilities of this indicator
Alerts can be repeated for the same event to guarantee or to recognize the MACDmaxmin indicator
The indicator simplifies the parameters to the maximum, to avoid the trader complex configurations
The indicator is valid for any asset and any time horizon
It can be used in strategies based solely on this indicator or it can be combined with other indicators
You can configure the color of the indicator trend lines.
Optimized and tested algorithm to ensure it is always in service
Understands:
A positive and a negative area that represents the MACD movement
Oscillating line as a signal of trend strength
2 lines of dynamic levels of supports and resistances in the oscillator signal
Two lines of dynamic levels, resist and support
MACDmaxmin Indicator Parameters
Fast MACD Period candlestick period used to calculate the fast moving average of the MACD oscillator
Slow MACD Period candlestick period used to calculate the slow moving average of the MACD oscillator
Signal Period period used to calculate the MACD signal
Tolerance value used as a condition to accept a peak as a new maximum or minimum
Kind price calculation can use all forms of price calculation including HL / 2, HLC / 3 and HLCC / 4
View divergence (circle) display circles in the oscillator at the points where divergences occurred
View overprice (square) display in the oscillator squares at the points where overpricing is detected
View trend in chart (arrow) see in the candlestick chart an arrow indicating the possible trend according to the oscillator RSImaxmin
View support and resist levels view support and resistance calculated automatically
Alert Settings allows you to choose the alerts you want to receive regarding the indicator. These can be:

alerts_off
maxmin_Divergences
max_Divergences
min_Divergences
overbought
oversold
overbought_sold
all_alerts

Alert Kind are the options that the program allows to notify you of an event. These can be:

Mobile (you must have this option activated on your MT5 platform)
Email (you must configure your MT5 platform to receive emails)
Desktop
Alls

Alert repetition per event is the number of times an alert can be repeated for the same event. You can repeat an alarm 1, 3, 5, and 10 times as needed
If you have any questions or suggestions you can contact me using the following
link
Buyers of this product also purchase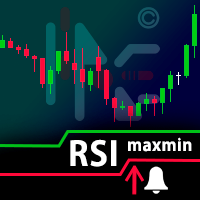 RSImaxmin
Carlos Andrés Moya Erazo
The indicator shows when there are overprice and divergences on the RSI. In addition, it has configurable alerts, dynamic overprice levels and a special "RSI cleaner" function. The only indicator that automatically calculates the premium rates! RSImaxmin is an indicator based on the Relative Strength Index (RSI) oscillator that effectively identifies changes in price trends as it reflects the relative strength of bullish movements compared to bearish movements. It is widely used by traders to m
120 USD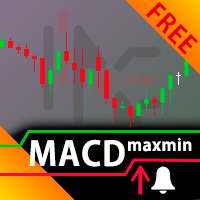 MACDmaxmin free demo
Carlos Andrés Moya Erazo
The indicator shows when there are overpricing and divergences over a normalized MACD Plus, it displays signals with configurable alerts, self-regulating dynamic overprice levels, and a simple setup and interface. The only indicator that automatically calculates overprices ranges! MACDmaxmin is an indicator based on the MACD oscillator that effectively identifies trend changes in price, as it is a momentum indicator that captures the trend and shows the relationship between two moving averages
FREE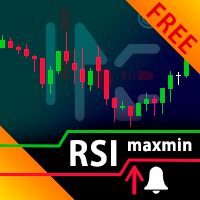 RSImaxmin free demo
Carlos Andrés Moya Erazo
The indicator shows when there are overprice and divergences on the RSI. In addition, it has dynamic overprice levels. The only indicator that automatically calculates the premium rates! RSImaxmin is an indicator based on the Relative Strength Index (RSI) oscillator that effectively identifies changes in price trends as it reflects the relative strength of bullish movements compared to bearish movements. It is widely used by traders to measure the strength of a trend and identify end-of-trend s
FREE