Overview

Reviews (3)

Comments (2)

What's new
Scalper and swing trading
Scalper and Swing Trading is a dial indicator containing 2 strategies, the first scalping for intraday trading, and the second swing for determining reversal points.
Scalping strategy: This strategy is based on 2 indicators MACD and CCI both indicators show sharp price jumps, strong oversold and overbought.
Swing strategy: This strategy is against the trend and shows weekly oversold and overbought, abnormal decline and rise in prices, but the signals on it are rare. In determining the pivot points are indicators - WILLIAMS' PERCENT, CCI,ENVELOPES,MA.
This indicator is optimized for the timeframe of 1 hour for the main currency pairs. Both strategies can work together or separately, both on and off. There is also a history limit, so as not to load the terminal.
Author: I have been trading in the Forex market for about 5 years and I recommend before trading to watch the reports of the SOTI always trade in the direction of the trend.
Buyers of this product also purchase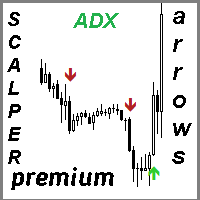 Adx scalper arrow
Dmitrii Melnikov
Dial indicator based on one ADX indicator. Gives buy and sell signals when DI + and DI - lines intersect. The indicator works on all timeframes and currency pairs. In the premium version the signals are filtered, they are less, but they are more reliable. There are settings of the indicator period, you can experiment. ADXPeriod=14 - The period of the indicator. The indicator gives high-quality buy and sell signals, suitable for intraday trading.
3 000 USD
Returned settings are based scalping utility signal, the little arrow.
Убраны настройки, добавлено обнуление буферов в отсутствие сигналов, сигнал теперь появляется своевременно, на 1 свечу раньше, без запаздывания.