Overview

Reviews

Comments (1)
Procyon
Procyon
is a fully automated professional Expert Advisor for scalping trading and designed for the major volatile pairs.
It use a custom algorithm for recognizing the Price Action and sends a pending order during large market movements and takes advantage of the retracement to make a significant profit, while ensuring some moderate losses through a tight hard stop loss.
Advantages
Few parameters for more efficiency (with .set files for each pair)
Hard Stop loss and Spread filter for every trade
Optimized lot size managed by account Balance and Risk
No Grid, No Hedge, No Martingale, and No Averaging of losing positions
Effective even on low leverage accounts (1:30 or higher)
Low Drawdown to start with a small capital ($200 min or higher)
Parameters
Trading
Allow Trading : Stop all activities of Expert if false (do not use this option if orders with same Magic Number are opened)
Allow SELL orders : Enable/disable Sell orders (do not use this option if Sell orders with same Magic Number are opened)
Allow BUY orders : Enable/disable Buy orders (do not use this option if Buy orders with same Magic Number are opened)
Stop Loss : Hard Stop loss distance in points
TrailingStart : Distance in points of trailing beginning
TrailingSize : Size in points of trailing
Magic Number : Number to distinguish orders from others EA
ValueForceATR : Value to determine the signal force volatility. The higher the value, the fewer the trades. It is a variable of important adjustment according to the traded pair
Max Spread : Maximum spread allowed to open a trade
Max Slippage : It will be your max slippage to open a trade
Money management
Fixed lot : Size of lot if AutoLot if Automatic LotSize is disable
Automatic LotSize : Enable/disable automatic lot calculation based on account free margin, stoploss size and risk percentage
Risk on eatch order : Percentage of account balance for Automatic LotSize calculation (0.03 for 3% for exemple)
Max Lot Size : Max Lot size to use if Automatic LotSize is enable
General Recommendations
This Expert Advisor requires ECN account with low spread and good execution.
A VPS is required, located in the same location of your broker's server.
Be careful, this expert is sensitive to latency and slippage to provide optimized performance, i recommend great caution in starting to test it on a demo account for at least few months before using it on a real account.
Minimal recommended deposit - $200
Timeframe :
M1
Best result when used on high volatility
5 decimal pairs
like GBPUSD, EURUSD, USDCAD ...
Good luck !
Buyers of this product also purchase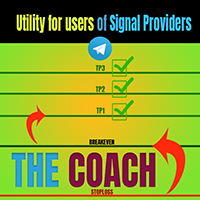 The Coach
HEGUI Morad
Especially developed for users of signal providers in telegram groups and other, This utility allows you to manage your multiple signals safety. Indeed, the stoploss are automatically moved to maximize your profits and limit your losses in case of reversal. This utility is also suitable for signals based on multiple take profit Manual Open the graph of the currency pair on which you wish to place your order Drag the utility on the graph Click on the "inputs" tab Fill in the levels rep
70 USD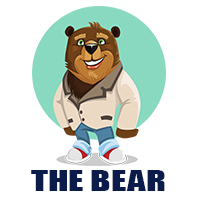 The bear
HEGUI Morad
Limited time offer few copies only left for $199 !!!     next price 250$ The bear uses an algorithm based on the RSI Alligator strategy It is developed specifically for GBPUSD and designed to give you an optimal result adapted to the post-covid market . ️ WHY CHOOSE THIS EXPERT ADVISOR ?   ️ No Grid, No Martingale, No Averaging, any dangerous strategy ️ Always use Stoploss and Takeprofit   ️ Best profitability with more than 1:1 risk reward per order ️ Lotsize calculated
199 USD