Overview

Reviews (1)

Comments

What's new
Scroll Market Watch
It isn't always an easy operation to scroll the symbols offered by the Broker on the chart.
Checking the existence of the input conditions on all of the instruments can become slow and stressful: looking for the cross concerned, opening a new chart and applying the template; it takes time and reduces the reactivity.
This tool allow to scroll the symbols made available by the Broker with an easy click and when you want to open the symbol in a new graph to analyze it better, there is a
specific button.
INPUT PARAMETERS
Corner anchor: the angle of graphic anchor of the button panel.
Horizontal distance: distance of the button panel from the vertical axis expressed in pixel.
Vertical distance: distance of the button panel from the horizontal axis expressed in pixel.
Font height: the size of the front on which the dimensions of the buttons depend.
U
se showed or any
: drop-down menu for choosing if visualize.
Use only showed symbols: only symbols present in the Market Watch list.
Use hidden symbols: all of the symbols made available to the broker.
Apply template in the new chart: if put at true, it allows to apply a template if a new chart is open for the checked symbol.
Template name: template's name to apply to the new chart opened.
The button panel showed, after loading of the indicator, will be like the followig:
NEXT: it will load the next symbol.
PREV: it will load the previous symbol.
OPEN: it will open a new chart of the current symbol and, if properly set, it will load the templare.
If the indicated template couldn't be found, an Alert message would give notice.
Buyers of this product also purchase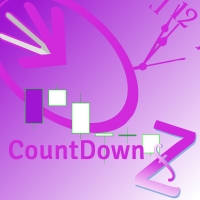 CountDown ForexZeta MT5
Gabriele Tedeschi
A fantastic indicator which shows you on display how many days, hours and seconds left before the candle changes. Don't waste your time thanks to this basic instrument! Fully customizable! Input parameters Anchor Corner - Corner anchor of CountDown XDistance - Number of pixels from the x axis YDistance - Number of pixels from the y axis FontSize - Font size Font - Font type ColorFont - Font color Double click on the text and drag it on the chart, wherever is more suitable for you.
FREE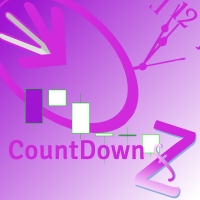 CountDown ForexZeta
Gabriele Tedeschi
An indicator that print screen how many hours, how many minutes and how many seconds left before changing candle. Fully customizable. Choose where to put the text, choose the size, choose color and font. External variables / Inputs AnchorCorner : reference angle, the one from which set the coordinates (0,0) XDistance : distance from the vertical edge of the graph YDistance : distance from the horizontal edge of the graph FontSize : text size Font : font name ColorFont : text color
FREE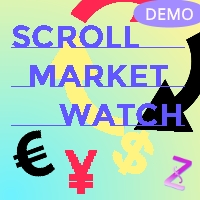 Scroll Market Watch DEMO
Gabriele Tedeschi
Scroll Market Watch   It isn't always an easy operation to scroll the symbols offered by the Broker on the chart. Checking the existence of the input conditions on all of the instruments can become slow and stressful: looking for the cross concerned, opening a new chart and applying the template; it takes time and reduces the reactivity. This tool allow to scroll the symbols made available by the Broker with an easy click and when you want to open the symbol in a new graph to analyze it be
FREE