Overview

Reviews (5)

Comments (60)

What's new
PrimeTime Intraday Volatility Extrapolator
It seems logical to know when a trade will have the most profit potential. Why waste time trading in less than ideal conditions?
This leading indicator provides a detailed analysis of the price movement of a currency, but more importantly.... it extrapolates price movement for the next 24 periods of the chosen timeframe to come. PrimeTime's sophisticated algorithm considers each individual period and determines future price activity with a respectable degree of accuracy.
Using PrimeTime you will gain a better understanding of the weekly cycles affecting each symbol. You will see what periods of what days may produce the most profitable trades, and conversely the periods where you may be better off reading a book. You will see the good trading periods coming! You will also see the bad trading periods coming...... But you will know the difference!
Periods affected by the different and overlapping session times and regular economic news releases can be recognized. The periods of rapidly increasing activity (Acceleration Zones) can be isolated as these can provide some interesting trade opportunities such as trading reversals from knee-jerk price action, and provide forewarning of possible occurrences such as slowing of trend and reversals that often occur between the peaks of increased activity areas, for example.
Please Note: This indicator is a tool for intraday traders and will not work on periods greater than H1!
Other indicators recommended by the author:
Trend = Advanced Range Bands and DMDR
OB/OS = Advanced Range Bands
Breakout = DMDR

Buyers of this product also purchase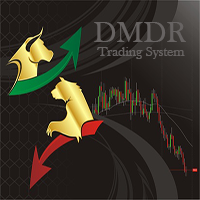 Dynamic Mean Deviation and Reversion
Korey Aitkenhead
DMDR is a BREAKOUT INDICATOR . It is designed to help the user identify periods of consolidation, and more importantly, breakouts. It does this by comparing recent volatility with the longer term. It is easy to use, simply set the sensitivity to a value that suits the timeframe (This will be fairly obvious. Due to the way in which the indicators algorithm functions, this value may require tweeking from time to time to keep it up to date with current market conditions, but this will also seem int
19 USD
Improved extrapolation algorithm. Vertical line to mark current position
Bug fix. Indicator simplified.
Ability to isolate acceleration zones narrows prime trading periods.
- More efficient code.
- Improved extrapolation specific to individual bars of M30, M15, M5, and M1.
- Highlighted acceleration zones.
- Improved visuals for over-level conditions.

Auto detect maximum data value.
Bug fixes.
- Smoothing added.
- Improved extrapolation.
- Alerts for data and timeframe added.
Additional features added, based upon the physics of the chart. Mass, Momentum, Velocity, Acceleration, Force, Potential, and Significance.