Overview

Reviews

Comments
Market Working Time Marker
The indicator shows when every market session starts and finishes in colored frame box.
It includes the Stop Hunt Boxes which shows pockets of liquidity, found at places where traders put their stop losses on existing positions.
Contains EMA crossover alert on 50 EMA, 200 EMA and 800 EMA.
It can be used in many Forex strategies and for easier observe of the chart.
Indicator parameters
NumberOfDays - period of drawing the frames, default is 50 days;
Draw_asian_box - draw the box of Asian session, default is true;
Draw_asian_text - indicate the price movement in Asian session in pips, default is true;
Draw_asian_box_as_outline - disable filling the frame with the color, only the draw frame outlines, default is false;
Begin_1 - the beginning time of the Asian session;
End_1 - the ending time of the Asian session;
Color_1 - color of the Asian session box;
Same procedure for European session box and New York session box.
Alert50EMA - alert when price cross 50 EMA, default is true;
Alert50Pips - the number of pips the EMA needs to pass to activate the alert, default is 20;
Same procedure for Alert200 and Alert800.
DrawStopHuntBox - draw the Stop Hunt Box, default is true;
StopHuntBoxColor - color of the Stop Hunt Box.
How to configure the indicator?
Open Indicator list or press "Ctrl+I", choose AI_WorkTimes and click on "Inputs" tab.
Check the Screenshots to see how to input your parameters correctly.
Buyers of this product also purchase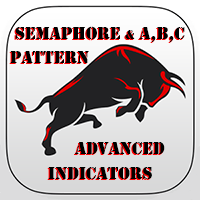 Semaphore and ABC Pattern
Stoyan Roev
The indicator places Semaphore points on the maximum and minimum of a higher, medium and lower period. It includes A,B,C Triangles for easier spotting of reversal chart pattern which occurs very frequently and has a very high success ratio. Both Semaphore and A,B,C Triangles have Alerts and Push notifications to a mobile device when they occur on the chart. These indicators are very useful for breakout trading and spotting support/resistance levels which gives good opportunities for positions.
39 USD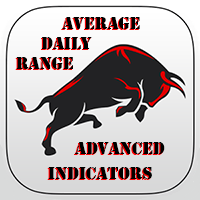 Average Daily Range Marker
Stoyan Roev
The Average Daily Range shows the dynamic levels of average pip range  on a pair measured based on the daily Highs and Lows over a certain periods. You can use the ADR to visualize potential price action  outside the average daily move. When ADR is above average, it means that the daily volatility is higher  than usual. The ADR can be helpful in setting targets for positions. If the ADR shows you that a pair has an average daily range of 80 pips, then it might be wise to tighten up your target
39 USD