Overview

Reviews (9)

Comments (81)

What's new
Cycle Finder Pro
Update - Version 4.0 now includes trend change signal. Indicator will tell you the current trend on all charts.
Cycle Finder Pro is a chart reading indicator and is designed for trend and pattern traders. Chart reading is time consuming and complex and requires knowledge of price action, cyclicity, and time frame correlation. Cycle Finder Pro reads all this in one simple indicator so you can spot trend and chart patterns much easier and much faster.
To know if a trend exists on a chart you must know the location of 4 points at all times, chart patterns such as Head & Shoulders require 5 points, get any of these points wrong and you will make the wrong trading decision. Take the guessing out of chart reading and let Cycle Finder Pro do the hard work for you. Check out our screen shots and video below for more information on how Cycle Finder Pro identifies these points.
Also, do you know what to do with oversized/news bars on your chart? Certain events disrupt the natural cycles in the market and how these are treated is very important. Cycle Finder Pro reads price actionand identifies when this occurs and decides whether they have broken the natural cycle/trend in a market or not and shows you how it should be treated. No more guessing is required.
Cycle Finder Pro works on all time frames and all market types.
Adjustable input parameters
Marker offset for H/L values in pips - This is the distance each high/low confirmation marker is positioned away from price. By default, this is set to 20pips. This can be brought closer or positioned further away to suit the time frame being viewed if desired.
Set ATR multiplier - This has been added to eliminate over-sized bars from your chart so that we can still focus on the true cycles. The default ATR is 3 but this can be amended to take into account larger or smaller bars. We recommend 3 as a starting point for all users.
Trend text - Choose what name to give each type of trade. Uptrend, downtrend and no trend are shown as default.
Trend color - Choose what color to assign to each trend type. Green, yellow and red are set as default.
Trend size - Choose what size of text and directional arrow you wish to display on you chart.
Trend corner - Choose which corner to display the trend. Bottom right hand corner is shown as default.
Buyers of this product also purchase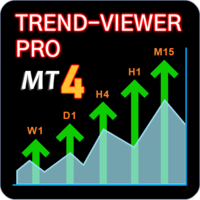 Trend Viewer Pro
Raymond Gilmour
SEE THE TREND ON EVERY TIME FRAME. INTELLIGENT INDICATOR READS PRICE ACTION TO SPOT TRUE MARKET CYCLES AND TREND. This advanced multi-currency and multi-time frame indicator, reads trend in real-time so you always know the trends of the markets you want to trade.  ​Trend-Viewer Pro has been specifically designed to read the trend of every time frame and every market , simultaneously, making it much easier for you to find markets with time frame correlation , so you can focus on the best market
89 USD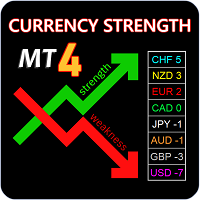 Currency Strength Matrix
Raymond Gilmour
THE ONLY CURRENCY STRENGTH INDICATOR THAT IS BASED ON PRICE ACTION. DESIGNED FOR TREND, MOMENTUM & REVERSAL TRADERS This indicator  reads price action to confirm trend and strength . Advanced multi-currency and multi-time frame indicator that shows you simply by looking at one chart, every currency pair that is trending and the strongest and weakest currencies driving those trends. For full details on how to use this indicator, and also how to get a FREE chart tool, please see user manual HER
98 USD
Upgraded to now include trend change signal, to make reading the chart even easier. Works on all time frames and all markets.
new code is more efficient and faster to calculate and also reads price action in consolidations better.
Performance enhancements made to increase the speed of live updates.
Upgrades made to indicator performance. Bar limit added so most recent (1000 bars by default) price action is read and not the full history. Reading full history could slow some older, less powerful machines down. New setting added to input parameters to adjust the number of bars if needed.
Updated the code to improve overall performance
Enhanced the code to update faster when the price moves above an existing High or Low.
New version allows you to adjust how far the high and low confirmations are away from price. The default is 20 pips but you may wish to have this closer to price on smaller time frames.