Overview

Reviews

Comments (2)
Trend Navigator
The Trend Navigator analyses the price range to identify and display the trend areas and potential reversal areas in real time. The main function is to search for the safest points to enter the market and to successfully exit. The indicator displays the prediction of common price patterns in the price charts of Forex and Stock markets. The indicator visually highlights the price areas based on the algorithm of price range evaluation by multiple criteria.
Usage
You can use the indicator for intraday and medium-term trading.
The Trend Navigator works on all symbols and selected timeframes. The highest accuracy has been obtained on the timeframes: M15, M30, H1
The indicator is optimized for trading instruments: GBPUSD, USDJPY, EURAUD, EURJPY, GBPCHF, EURUSD, CADCHF, USDCHF, AUDUSD, USDCAD, EURCHF, EURGBP, EURCAD, GBPJPY, CHFJPY, USDSGD, USDDKK, SGDJPY, NZDSGD, USDNOK, NZDUSD, GBPAUD, GBPCAD, AUDJPY, AUDCAD, CADJPY, USDSEK, AUDCHF, CHFSGD, NZDCHF, CHFPLN, GOLD, SILVER
Settings
The indicator does not need to be adjusted.
Trading strategy
Make a buy trade if you see a prediction of an uptrend.
Make a sell trade if you see a prediction of a downtrend.
Use take-profit and stop-loss on the predicted peaks. Example: When making a buy trade, you can place the take profit on top of a predicted curve.
The Trend Navigator works in Visualization mode in the strategy tester.
The main objective of the indicator is the to simplify the process of detecting price patterns and informing for a fast and accurate decision-making. The Trend Navigator can become an indispensable tool for both novice traders and professionals. Good luck in trading!
Buyers of this product also purchase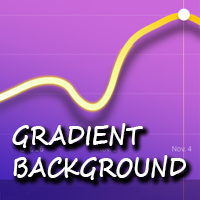 Background
Andrey Opeyda
This utility allows you to set a color gradient (smooth transition of one color into another) as a chart background. The product offers a selection of colors. During the development, the main efforts were focused on the utility's high performance.
10 USD